Watch Zakir Khan get back in his shayarana andaaz as Amazon miniTV announces Farzi Mushaira Season 2
Season 2 of this show will feature Tanmay Bhat, Vijay Varma, Richa Chadha, Kritika Kamra, Venus Singh, Onima Kashyap, Sara Gurpal, Dolly Singh, Sulagna Panigrahi, and Badri Chavan as special guests along with the recurring cast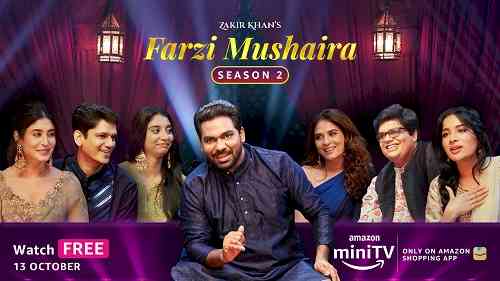 Mumbai, October 12, 2022: Amazon miniTV – Amazon's free video streaming service is back to create a mehfil with Farzi Shayaris that offers a comedic twist to traditional shayari. The streaming service has announced season 2 of Zakir Khan's Farzi Mushaira. The much-loved comedy series brings back Zakir Khan to his shayarana andaaz along with Nishant Tanwar, Kumar Varun, Gopal Dutt,and Hussain Dalal. In Season 2, a new and interesting lineup of special celebrity guests including Tanmay Bhat, Vijay Varma, Richa Chadha, Kritika Kamra, Venus Singh, Onima Kashyap, Sara Gurpal, Dolly Singh, Sulagna Panigrahi, and Badri Chavan join the Shayari Clan. The trailer for the comedy series, which premieres exclusively on Amazon miniTV on October 13 for free, was released a few days ago.
 
Season 2 promises to elevate the entertainment and fun as the shayaris will be brutal, heart breaking, hard hitting, and above all FARZI. In each episode, five heart-broken farzi shayars will come and pour their hearts out in their poems. Their fun-filled banter will not only be engaging but full of layered humor. Along with the shayaris, the banter between the Shayari Clan promises to entertain audiences as instead of healing the wounds of the heart, they end up rubbing salt in it!
 
"Shayaris hold a special place in my heart, and it wouldn't be wrong to say they are a part of my being. Announcing Season 2 of Farzi Mushaira with Amazon miniTV brings a lot of joy and excitement to me", expressed Zakir Khan. "Season 1 was received well, and with Season 2 we will take the stakes higher, creating more shayars across India. I'm glad to be joined by an amazing set of talent who will not only touch viewers' hearts but also bring a smile to their faces. While the focus is on heartbreaking shayaris, we wish to join hearts with our comic skills."
 
Farzi Mushaira Season 2 will premiere on October 13 on Amazon miniTV for free within the Amazon Shopping App and on Fire TV.