Volunteering as service from Sunaayy Foundation during lockdown
Sunaayy Foundation has always come forward to help their children and their families as well as other daily wage labourers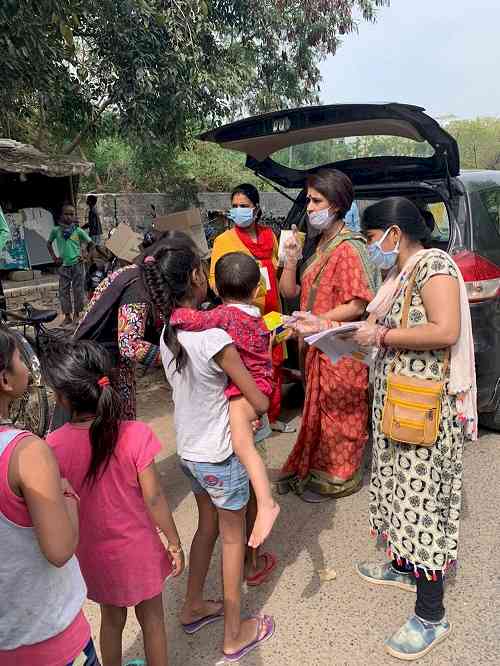 New Delhi: At this time when the world is facing a huge crisis due to the massive outbreak of pandemic, Sunaayy Foundation is distributing food and other relief materials to migrant labourers, underprivileged children and their families. Everyone has come forward to volunteer their services or with their valuable contribution towards this great cause.
 
The most remarkable ones are the participation of senior school students from India as well as various parts of the world who have come forward as the volunteers for innovative fundraising activities, creating awareness about various cultural aspects, bad effects of drugs and topics relevant to other social lacunas through online interactive activities, conducting chess and art classes, designing and conceptualizing social media and other collaterals, and many other impactful work in their own ways. Anika Singh (grade 9 Robbinsville high school - New Jersey USA), Siona Wadhawan (grade 10 university prep school, Seattle USA), Arnav Pandit (class 11 Shriram school - New Delhi), Shriya Chaturvedi (class 9 Sanskriti school - New Delhi), Siddhant Sharma (class 12, VVS- New Delhi), and Max Suter (grade 10, Switzerland) have set bar raising examples of how one could volunteer at any age, from any location, and with any skill and not only make a social impact but also send a powerful message of volunteering to the whole world.
 
"Sunaayy Foundation takes huge pride in having an association of volunteers where individuals and groups come together to offer their selfless service to educate and nourish the underprivileged children and make sure they remain healthy. While each such intervention may seem small, the summation of service volunteering add up and makes Sunaayy Foundation what it is today" said Ms. Richa Prasant, Founder of Sunaayy Foundation.
 
Sunaayy Foundation has always come forward to help their children and their families as well as other daily wage labourers. Realizing the loss of work and wages, and the corona attack on the very livelihood of 2300 migrant workers' families whose 450 children are a part of Sunaayy Foundation in Vasant Kunj, New Delhi centre. Sunaayy Foundation serves these disadvantaged children and families to bridge the gap left by Government initiatives in areas of health, nutrition, and early childhood education. Sunaayy has successfully implemented a cluster-based strategy through a multi-grade sustainable learning system in a safe environment. Most students come from migrant families who have settled in the slums or informal settlements of the Vasant Kunj area in New Delhi. Their parents are mostly employed as daily wage laborers or engaged in the informal/unorganized labor sector.