Voltas Beko launches its first manufacturing facility in India
Situated in Sanand, Gujarat, facility will have production capacity of 2.5 million home appliances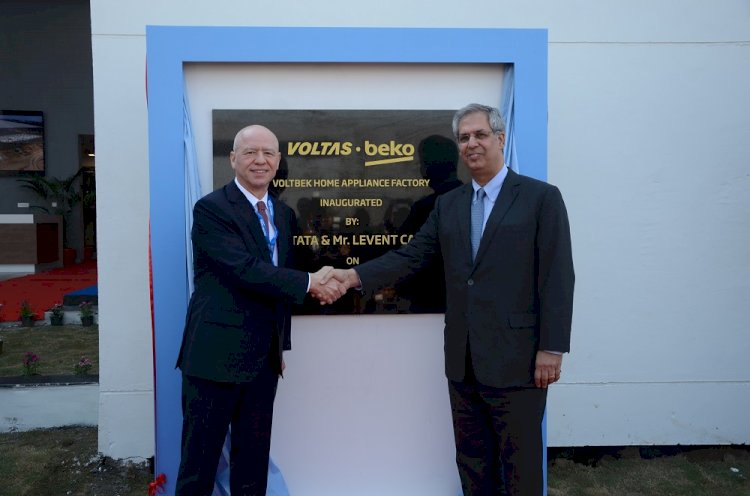 Mr. Levent Çakıroğlu, CEO, Koç Holding AS and Mr. Noel Tata, Chairman, Voltas Limited inaugurating Voltas Beko's first factory in Sanand, Gujarat on Thursday, 30th January 2020. (from left to right).
Sanand: Voltbek Home Appliances Private Limited (Voltbek) - a JV between India's No. 1 AC Brand, Voltas and Europe's leading consumer durables player, Arçelik, today announced the opening of its first manufacturing facility in India. Spread over 60 acres in Sanand, an industrial hub near Ahmedabad, Gujarat, the factory will manufacture Home Appliances that include refrigerators and washing machines. Backed by an investment of $180 million (INR 1000+ crores), Voltbek's Sanand factory is one of the first white goods appliances unit in the State of Gujarat that will create an OEM base for home appliances in the region, along with local employment opportunities.
 
This state-of-the-art manufacturing facility will leverage Arçelik's global expertise in manufacturing and product development and Voltas's strong brand presence, and country wide sales and distribution network. With this new facility the brand aims to increase its product portfolio and develop new innovative products specifically designed for Indian consumers. Voltas Beko will also produce Direct Cool Refrigerators which are ~ 80% of the refrigerator market by volume, and the facility will reach its annual production capacity of 2.5 million units by 2025. The factory will primarily cater to the needs of the Indian market, leveraging Voltas' brand and distribution strength. However going forward, we might also explore export opportunities.
 
Speaking on this occasion, Mr. Noel Tata, Chairman, Voltas Limited said, "We continue to see huge growth opportunities for consumer durables in the Indian market -- on its way to fast becoming a USD 5 trillion economy.
 
The Voltas 'Make in India' programme envisages backing our market leadership ambitions with world class manufacturing facilities in India. Voltbek Home Appliances Private Limited, the partnership between Beko a global leader and innovator in the white goods space, and Voltas, the market leader in consumer air conditioning in India, will now have this world class manufacturing facility to support our growth ambitions.
 
We aim to provide consumers in India with a unique and innovative range of products, harnessing the many global patents and product development capabilities of Beko, and by leveraging the brand and distribution strengths of Voltas."
 
Mr. Levent Çakıroğlu, CEO, Koç Holding speaking at the ceremony said: "Today opens up a new chapter in our journey in India. This venture in India constitutes a strategic step within the framework of Koç Group's global vision. By establishing Voltbek, our main goal is to become a key player in India's rapidly growing white goods market. As Koç Group, through our production and marketing companies, we operate in 46 countries. 48 languages are spoken in our offices and we carry out transactions in 32 different currencies. With 23 manufacturing facilities across the world, Arçelik expands its global footprint with new investments. Our global brand Beko is one of the fastest growing players in Europe and recent investments in Thailand and India, have strengthened our presence in Asia-Pacific region. Tata and Koç Group have similar values which are; excellence, unity, integrity and ethics. With our shared values and this state-of-the-art facility with an estimated investment of 180 million dollars, I am confident that Voltbek will continue to flourish and be one of the leading players in the near term."
 
Mr. Pradeep Bakshi, Managing Director & CEO, Voltas Limited added, saying "Since its launch in 2018, Voltas Beko has established itself as one of the fastest growing consumer durables brands in the country and is expected to sell close to half a million units by the end of this fiscal year. The brand already has a significant footprint in the washing machine and refrigerator categories, in addition to being a leading player in dishwashers. With this new manufacturing facility in Sanand, we are confident of becoming a leading player in the home appliances segment in India by 2025."
 
Mr. Hakan Bulgurlu, CEO, Arçelik said: "India offers a huge potential and we are excited to be a part of the country's success story. Our goal is to become a leading player and achieve double digit market share in the Indian white goods market over the next decade. We believe that our new factory will help us deliver this ambitious goal and make a significant contribution to Indian economy. Beko is a leading global player in home appliances industry and with our global expertise and tailor-made innovations, we will continue to meet and exceed Indian customers' expectations."
 
As per industry reports, the Consumer Durables market in India is slated to grow at 10–12 percent per annum. During the last 10 years, the Indian Major Domestic Appliances market grew by nearly 9 percent, surpassing the overall 3 percent growth of the global white goods market. The brand is confident of its growth in the coming years due to infrastructural and macroeconomic developments taking place, and aims to capture a significant market share by 2025, thus becoming a leading player in consumer durables in the country. With the Sanand factory now operational, Voltas Beko aims to broaden its consumer reach by providing affordable, accessible and high-quality consumer durables.