Vocational and certificate courses, virtual counselling cell inaugurated under IDP at UHF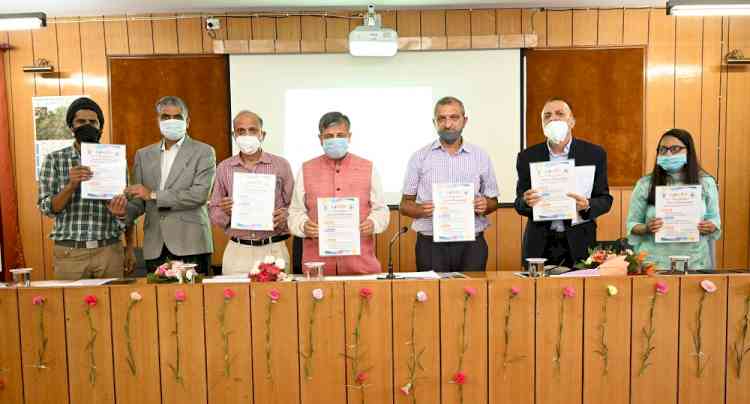 Launch of vocational and certificate courses.
Nauni, September 21, 2021: To inculcate the spirit of entrepreneurship among students and motivate them to become entrepreneurs, Dr. YS Parmar University of Horticulture and Forestry, Nauni launched five vocational and three certificate courses. The courses were launched by Vice-Chancellor Dr. Parvinder Kaushal at an event here on Tuesday under the ICAR National Agricultural Higher Education Project's Institutional Development Plan being implemented at the university.
 
Vocational Courses on Medicinal Plants, Nursery Production of Temperate Fruits, Apiculture, Mushroom Cultivation and Flowers and value-addition were launched. Certificate course on Proficiency in English, Presentation skills and Savoir-Faire: Speak and Act Appropriately in Social Situation were also launched.
 
Addressing the students on the occasion, Dr. Kaushal said the course is aimed at enhancing the knowledge and skills of trainees on production, processing, marketing and enrichment of multiple products. He said that the university has launched these vocational and certificate courses for the career advancement of students. Speaking about entrepreneurship, he urged students to come forward with their innovative ideas and utilize government schemes to set up successful business ventures of their own. He added that these courses were developed after multiple brainstorming sessions with experts for realizing the scope of horticulture as well as forestry and recognizing the potential enterprises for the students in these disciplines.
 
Dr. KK Raina, Principal Investigator of IDP informed that the courses will be offered to BSc third and fourth-year students. He said that the students have the option to give their preference of the vocational course they would like to pursue while the final list is chosen on merit. The vocational course will spread over three months and will be in addition to the courses already being studied by the students. The certificate courses will be of shorter duration and will be completed in a month.  
 
Virtual counselling Cell inaugurated 
 
The university also launched a virtual counselling cell. The initiative will help students become self-aware and reach their highest potential and properly deal with anxiety, academic, family, and social problems they are facing. An online series of counselling sessions with students along with one on one interaction with counsellors from reputed medical institutions will be held through online mode ensuring the confidentiality of student's problems. The main aim of this cell is to encourage students to understand themselves better and guide them to resolve their problems. The goal is also to promote positive behaviour, establish good social relationships and maintain peace and friendly relationships with oneself.
 
Director Research Dr. Ravinder Sharma, Director Extension Education Dr. Divender Gupta, Deans Dr. DD Sharma, Dr. Anju Dhiman, Dr. Sanjeev Thakur along with the members of the IDP staff and activity in charge were present on the occasion.