Virtual round table conference organized by SCD Government College
Event held in collaboration with Punjab Commerce Management Association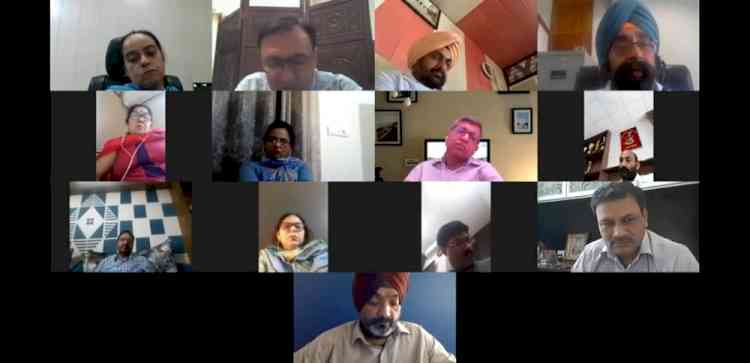 Chandigarh: Virtual Round Table Conference organized by SCD Government College, Ludhiana in collaboration with Punjab Commerce Management Association.
Under the leadership of the Principal Dr. Dharam Singh Sandhu and Dr. Ashwani Bhalla, President, PCMA an online Conference was organized to deliberate upon Covid-19: Unlocking Educational Institutions & Standard Operating Procedures. The Conference centred around how to reopen educational institutions to resume studies for the bright future of the students and how to conduct examinations for their promotion.
In this conference Dr. Karamjeet Singh, Registrar, Panjab University, Chd was the chief speaker. The Principal Dr. Dharam Singh appreciated the involvement of the eminent scholars who included Principals and teachers from colleges all over the state - Panjab University, Chandigarh; Punjabi University, Patiala; and Guru Nanak Dev University, Amritsar. There were nearly 40 participants.
Dr. Dharam Singh Sandhu said that because of the Covid 19 Pandemic, online technology is the need of the hour. We have to learn to adapt ourselves accordingly. With social distancing and lock down in place, this interaction has been hampered for than two months now. But the teaching community has shown resilience and commitment whereby the teachers have made full efforts to complete the syllabuses through online methods. However, all the students do not have access to these e- resources because many of them are from rural areas or they are from economically weaker sections of society. Many families are facing economic hardships in view of the Pandemic.
Dr. Karamjeet Singh exhorted all to keep up their spirits and to remain proactive. Only with an open mind can we hope to find solutions to the present crisis. He said that all decisions pertaining to the conduct of examinations will be taken only in accordance with the directives issued by the State Govt, the Central Govt and the UGC.
The resource persons were of the opinion that examinations cannot be held at the moment. Too much risk is involved.
In the valedictory address, Dr. Parvinder Singh, Controller, Examinations, PU., Chd. said everything must be correctly evaluated before taking any decision as the stakes are too high. Dr. Ashwani Bhalla emphasized upon being proactive and cognizant of the situation and to work collectively in these uncertain times to emerge successfully.