NGO `I Am Still Human' pays tribute to Kargil martyrs
Holds blood donation camp for Army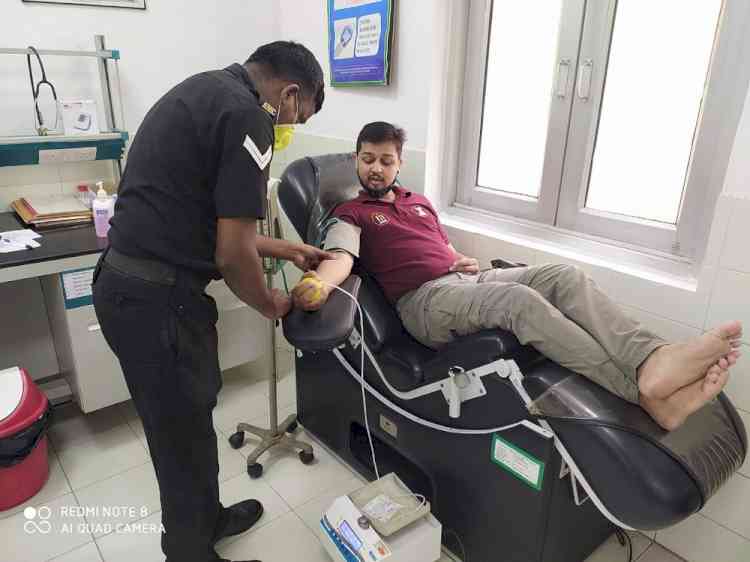 Vivek Mehra, Founder of ' I Am Still Human' donating blood at the camp held at Command Hospital, Chandimandir.
Chandigarh: Region's well known NGO 'I am Still Human'(IASH) which has been organising welfare  activities for personnel of the Indian army and families of martyrs' conducted a blood donation camp  with the Indian Army at Chandimandir's Command Hospital. The camp was held in association with Eduvelocity. 
Vivek Mehra, Founder, `I Am Still Human' said, "We always call our blood donation camps for the army 'Blood Connects' with  the army. The Reason:  civilians get a chance to donate blood, or connect with the army through donating their blood for the Indian army. This blood  gets directly used for the benefit of needy soldiers and their family members. The idea was to honour  Kargil martyrs, veterans and martyr families on the occasion of Kargil Vijay diwas. The 'Blood Connect' was a tribute to the warriors who sacrificed their lives for our country in the Kargil war."
It is noteworthy that  IASH throughout the year and especially during COVID19 has been donating blood for the Indian Army, as part of their motive to pay back to the brave personnel of the Indian army, who put their lives at risk to safeguard India's borders. 
Mehra added, "We owe our lives to our Faujis. We can never pay them for the supreme sacrifices they make for our well being, but we at IASH try our best to do something that can make their lives easier in some way or the other".
Under its Shaurya Campaign, the NGO has been contributing for the welfare of the Indian Armed forces in a dedicated way. It is known for holding regular events and blood donation camps for the army, adopting the education of martyr kids and sponsoring the marriages of martyr daughters.  It is also significant to mention here that besides the welfare of the armed forces, the NGO has worked actively towards the welfare of the underprivileged people during the recent lock-down due to COVID-19. Now IASH in association with Eduvelocity, aims  at contributing more to support the families of the martyrs.