Vigilance Awareness Week commences in RCF Kapurthala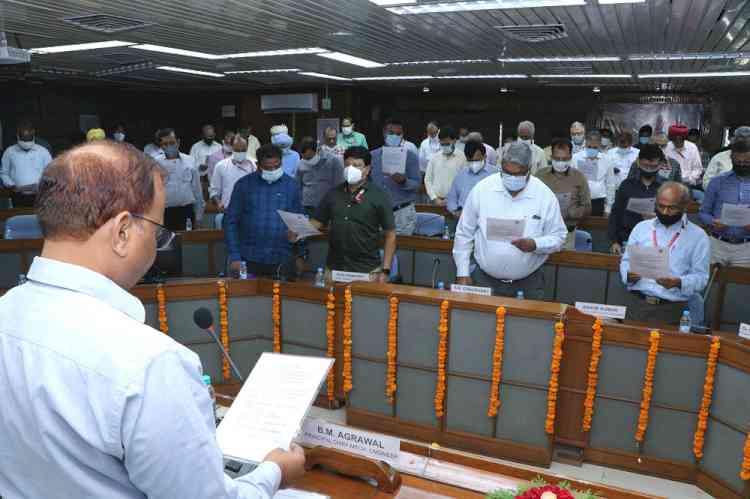 B M Agrawal, PCME RCF administering Integrity Pledge to RCF Officers.


Kapurthala, October 26, 2021: Rail Coach Factory Kapurthala is observing Vigilance Awareness Week 2021 from October 26 to November 1 with the theme Independent [email protected]:Self Reliance with Integrity. The week commenced with a function wherein Integrity Pledge was administered to all Officers by B.M. Agrawal, Principal Chief Mechanical Engineer / RCF.
A Vigilance Bulletin was released on the occasion through which RCF Vigilance has attempted to issue guidelines for officers and supervisors in their day to day working. The bulletin incorporates in brief of some of the cases and system improvements during the last year. Briefing on the week, Ravinder Kumar Verma, Chief Vigilance Officer said that during this week, CVC has desired that certain activities are to be taken as campaign mode like Internal House Keeping, benefits to person working in outsourcing activities, leverage of IT as preventive tool etc. has been circulated for compliance. Employees will be encouraged to take e-pledge on integrity. Verma added that for dissemination of information about "Complaints under PIDPI (Public Interest disclosure and protection of informers),  various posters have been displayed at various locations.
B. M. Agrawal , PCME in his address congratulated for organizing the `Vigilance Awareness Week -2021 with the theme "Independent India @ 75: Self Reliance with Integrity. He advised all officers to inculcate the principle of RCF "Honesty, Esteem, Hard Work"  in order to maintain the high standard of integrity. He lauded various steps taken by IT department of RCF in promoting transparency in day to day of RCF's working through portal "Pardarsy".
The function was also addressed by C V Raman, Principal Chief Material Manager where he stressed upon maintaining high standard of integrity at all the time. He shared his valuable experience of tenure as Vigilance Officer and recalled various interesting cases studies of his personal experience. He said that there will be no Vigilance angle involved if decision is taken with right intent and with proper recorded reason.
It is to be noted that Vigilance Awareness Week is observed every year during the week in which the birthday of Sardar Vallavhbhai Patel (31st October) falls.