Video on Dalai Lama to be released on Tibetan Democracy Day on Sept 2
The video is titled, "I admire the spirit of the European Union"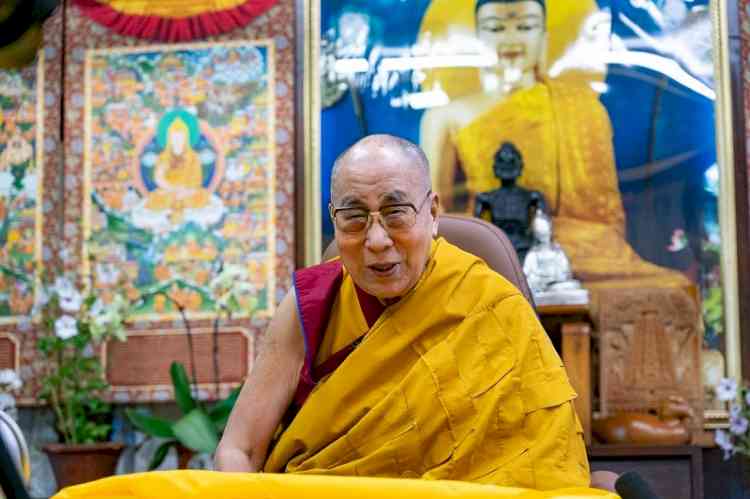 Dalai Lama. (File Photo)
Dharamshala: A short 17-minute video titled, "I admire the spirit of the European Union" – on HH the Dalai Lama is being released in Dharamshala on the occasion of Tibetan Democracy Day on September 2.

The Central Tibetan administration in Dharamshala said that the video encapsulates Dalai Lama's admiration and interactions with the European Union for over 30 years, beginning in 1988 when he presented the Peace Plan for Tibet in the European Parliament, Strasbourg, France.

"The video is produced by the TTV of the Department of Information & International Relations, CTA, Dharamshala in collaboration with the Office of Tibet, Brussels. It needs to be said that Ms Palden Choedon of TTV worked hard to bring out this important video," said CTA.

It added that the video gives details of 7 visits of HH The Dalai Lama to the European Parliament, last being in September 2016. Throughout the time the issue of human rights and the case of Tibet also received ample attention in the European Parliament. The European Union too has on numerous occasions raised the case of Tibet with China, including at the latest EU China summit. The Tibet Interest Group (TIG) in the EP, in liaison with the Office of Tibet, Brussels has been instrumental in the active presence of Tibetan case in the European Union.

CTA said, "In all his recent speeches Dalai Lama has expressed his admiration at the integration of Europe for the common good through discussion, debate and dialogue and eventually arriving at a decision. For instance, his latest message to the European Union, for its successful decision to pass the pandemic relief budget. One can almost sense his utter delight at the success of dialogue when sometimes it can be protracted. In another word, it is a tribute to the humane way of solving problems through discussion and not through war and violence.

"The video is really a celebration of the success of the European Union and its spirit for mutual benefit, harmony, rule of law and respect for democracy and fairness. It is also a record of the regular and consistent worldwide appeal by the Dalai Lama to persuade the world as one blue planet and its inhabitants- one big family," said CTA.

The spirit of the European Union is a fine and living example and therefore its promotion has become one of the core commitments of His Holiness the Dalai Lama.