Vehant Technologies installs 300 state-of-the-art cameras to enhance security and safety surveillance in Gurugram  
Vehant Technologies, a pioneer in AI/ ML based physical security surveillance 300 state-of-the-art cameras to enhance security & safety surveillance and managing traffic in Gurugram.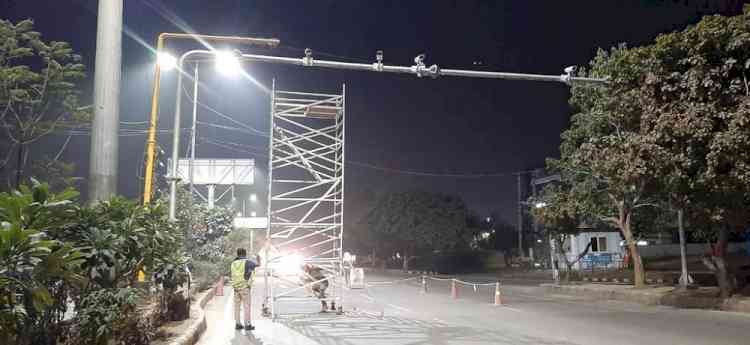 Gurugram: Vehant Technologies, a pioneer in AI/ ML based physical security surveillance 300 state-of-the-art cameras to enhance security & safety surveillance and managing traffic in Gurugram.
Traffic congestion and safety & Security surveillance are one of the major problems in the cities.  These can be controlled by many methods and by implementing modern technology. In India as the population is increasing day by day the traffic is also increasing with proportionality. So the traffic signals need good coordination for the smooth flow of traffic during the busy hours as the traffic is at peaks. On an average, 16 people die and another 53 are injured every hour on Indian roads. By offering metrics like red-light/speeding/parking/U-turn/lane-switch violations, accidents can be prevented. Even when accidents occur, it can be detected quickly and measures to save lives can be hastened.
Vehant Technologies, IIT Delhi incubated and a pioneer in Artificial Intelligence (AI)/ Machine Learning (ML) based security surveillance is installing these cameras across 102 locations.  
Phase 1 Deployment in Gurugram: Crowd detection, Animal Detection, Person detection.
New analytics already deployed - Quantity: 100 No Helmet Detection; 50 Wrong way detection; 50 parking violation, 50 object classification; 50 crowd detection.
Other under deployment- No Parking, Traffic, Seat Belt, Wrong way, No helmet & Triple Riding, Vehicle tracking.
Some of the important locations in Gurugram where the system has been deployed:
•  MG Road Metro Station
•  Galleria Main Market
•  Galleria
•  Genpact Underpass
•  Good Earth Mall
•  Guru Dronacharya Metro
•  Haldiram
•  Hyatt Regency
•  Hayatpur Pataudi road T-point
•  Hero Honda Chowk
•  Hong Kong market
•  Iffco Chowk
•  IMT Manesar Chowk
•  Jharsa Chowk
•  Jwala Mill
•  Kapashera Border
•  Kapashera Estate Delhi Entry
•  MCG office Sec-34 Entry
•  ACP Office Rezangla
•  Aggarwal Dharamshala

The new system, which would automatically detect violators if someone jumps a red light and also generate an e-challan, is being implemented under the Smart City project by GMDA. Red Light Violation Detection System will allow traffic cops to keep a track on violators and generate e-challan, which would then be handed over to the violator. The system would consist of camera mounted sensors for better detection of traffic violations, which would relay the data to the central control room managed by the Traffic Department.

Commenting on the development, Shailendra Kumar Singh, AVP- Smart & Safe City Business, Vehant Technologies said, "The traffic analytics solution shall assist the authorities in detecting different violations like parking, if a vehicle is going in the wrong way, if a commuter is not wearing a helmet while riding, driver not wearing seat belt while driving, and the like. The system shall facilitate efficient traffic enforcement and help to keep road users safe. Vehant designs and manufactures all the products in India to meet global standards and quality."
 
The system is connected to the control room at the traffic control rooms and is monitored round-the-clock. It also helps the police to detect and register cases against persons for not wearing helmets, over speeding, triple-riding, stop line violations, speaking over the phone while driving and other violations. These cameras also function effectively during night hours as recording takes place only if there is vehicle movement on the roads.

The system automatically encrypts and transfers the data of violation to the centralized server at Traffic Police Headquarters. The system also facilitates e-challan generation along with photo/ video evidence which is then sent to the violator's mobile phone through SMS. The system is capable of 24X7 operations. This solution will have an overview camera to capture the zoomed-out picture of an entire area when there has been a red-light violation. The ANPR will read the number plate of the offending vehicle and store it in the database.