Vardhman Amrante launches Vardhman City Centre
A grand commercial project elevating the real estate market on the Ludhiana-Chandigarh Highway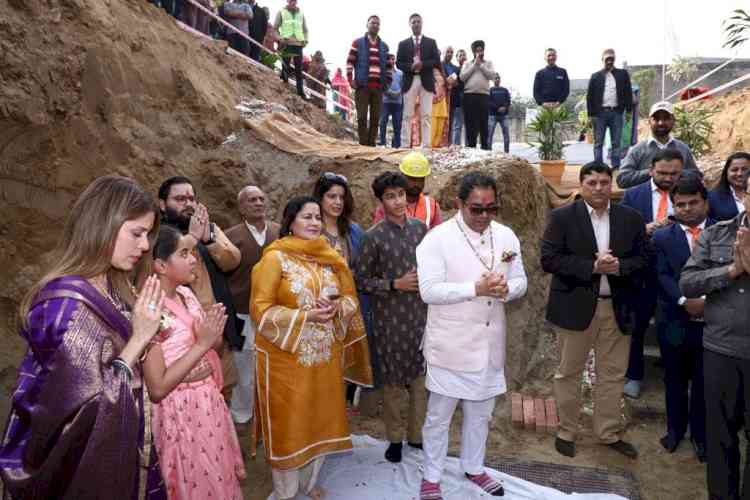 Ludhiana, December 16, 2021: After the successful delivery of a beloved residential project Vardhman Park, Vardhman Amrante launches the first-of-its-kind organised commercial development project on the burgeoning Ludhiana-Chandigarh highway. Named Vardhman City Centre, the project is all set to become a marketplace that will be a commercial hotspot offering shoppers a unique mix of retail, entertainment, food-court, and fine dining options. 
Bhoomi Pujan of the project was held recently. Speaking to members of the media, Adish Oswal — founder of Vardhman Amrante said Vardhman City Centre has been designed to be a destination of shopping, dining, and entertainment on the Chandigarh-Ludhiana highway. The wide frontage of the façade also offers unmatched visibility from the highway, attracting visitors and grabbing eyeballs. For ease of guests, the premises are well covered with elevators and escalators, ensuring a stress-free experience. The project has been conceptualised and designed by a renowned architecture firm with almost 40 years of experience. For execution purposes, the project is being managed by a leading name across India in construction and contractual works.
The most important aspect of Vardhman City Centre is the emphasis that has been laid on establishing the project as a food and recreational hub for the public. Designed to become the perfect hangout spot for visitors and nearby residents belonging to the catchment area, Vardhman City Centre will offer multiple fine-dining options along with a large food-court that can cater to a variety of audiences. The food court is the perfect choice for swift lunches in large gatherings with multiple offerings that can satisfy each specific craving. Fine dining options are much more relaxed, offering specific cuisines in a luxurious setting meant for intimate occasions. This amalgamation of dining options will be fondly named Eatopia — a utopia for dining and diners.
Vardhman City Centre is also the first commercial landmark on the Ludhiana-Chandigarh highway to offer a drive-through experience for guests. The drive-through experience is all set to begin January 2022 onwards, with Costa Coffee and Subway already signed on lease. The project is now moving forward at full speed, "We are aiming to deliver the project within the next 18 months," stated Mr. Adish Oswal. Given the interest showcased by various brands, it makes sense that immediate priority is given to timely delivery and possession to all investors and partner-brands.
With its unique mix of offerings for guests and visitors, swift construction, and well-planned architecture, Vardhman City Centre is all set to become the biggest and most popular hotspot on the Ludhiana-Chandigarh highway. For brands as well as investors, the potential is limitless as the ROI will be compounded annually at a geometric rate once the project is completed. The rentals are lucrative but will only grow with time, making Vardhman City Centre a solid addition to the real estate portfolio of investors.