UST's CSR Initiatives recognised at 2023 KMA Awards
Company recognized for its contributions to 'Environment and Greenery' and 'Health and Hygiene'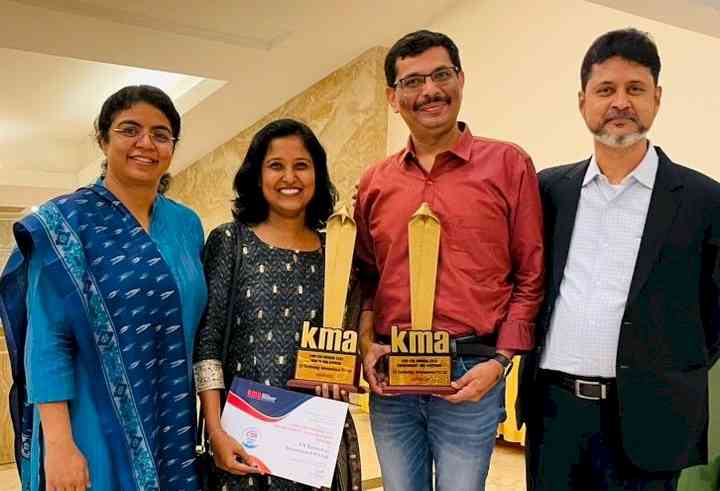 Kochi, March 28, 2023: UST, a leading digital transformation solutions company, has received two CSR Awards from the Kerala Management Association (KMA) for its campaigns and efforts to give back to the community. At an event held in Kochi, Kerala, UST received recognition for its contributions in the categories of 'Environment and Greenery' and 'Health and Hygiene'.

UST, a global pioneer in digital transformation solutions since its founding in 1999, has always placed a strong emphasis on giving back to the communities in the regions in which it conducts business. UST adopts an inclusive strategy and encourages staff members to volunteer on initiatives that will have a long-term impact and are consistent with sustainable development goals. The ambitious CSR initiatives of UST take a whole-of-society approach that aims to solve root issues while also enhancing individual lives.

"We are honoured to get these prestigious awards from the Kerala Management Association in recognition of our CSR efforts to give back to the community. Everyone at UST will keep trying to make our shared world a better one," said Sunil Balakrishnan, Chief Values Officer, UST.

In its work to improve health and hygiene in India, UST has supported initiatives to assist those living with disabilities and the critically ill while simultaneously participating in programs to reduce substance abuse and improve mental health. Furthermore, UST has worked to combat infant mortality in Attappady by supporting programs for maternal and infant health and nutrition. The multi-pronged effort is designed to combat the leading causes of infant mortality by placing an emphasis on maternal well-being through improved nutrition as well as sexual, reproductive, and mental health awareness. UST has provided more than 1000 free dialysis to patients touching more than 250 lives. Through the Regional Cancer Center Free Drug Bank, the company has also given away free medications to more than 500 cancer patients.

UST CSR is deeply invested in supporting initiatives related to mental health. The company has worked very closely with the patients and inmates of Santhimandiram, a psychosocial rehabilitation centre in Thiruvananthapuram, Kerala. Going beyond their basic needs of medicines, clothes, beds, and food supplies, to supporting infrastructure needs, UST associates visit regularly to work with mental health patients, to distribute eco-friendly materials, and organize recreational activities for the patients.

UST firmly believes in promoting the sustainable use of our ecosystems and preserving biodiversity and conducts its environmental CSR campaigns in full accordance with the United Nations Sustainable Development Goals. KMA recognized UST for its efforts to end forest degradation and restore degraded forests as well as its work to protect biodiversity and natural habitats. By establishing miniature forests using Miyawaki and dense forest plantation methods, UST also produces new green spaces in rural and urban regions to enhance and sustain biodiversity. Conservation and restoration of terrestrial and freshwater habitats are other environmental CSR initiatives undertaken by the company in India.

"I am proud of the UST employees that volunteered their time to give back to the community here in Kerala by embodying our corporate values through participation in these CSR campaigns. By boosting sustainability and improving healthcare, we are building a better world for the next generation," said Smita Sharma, Global Program Manager - CSR, UST. Sunil Balakrishnan, Smita Sharma, Sofi Janet, CSR Ambassador Trivandrum, Prasanth Subramanian, CSR Ambassador Kochi, along with other CSR Leads of UST received the award on behalf of the company.