UST celebrates Republic Day by planting over 4500 tree saplings at Govt Engineering College, Cherthala
The event marked the beginning of UST's CSR initiatives for 2023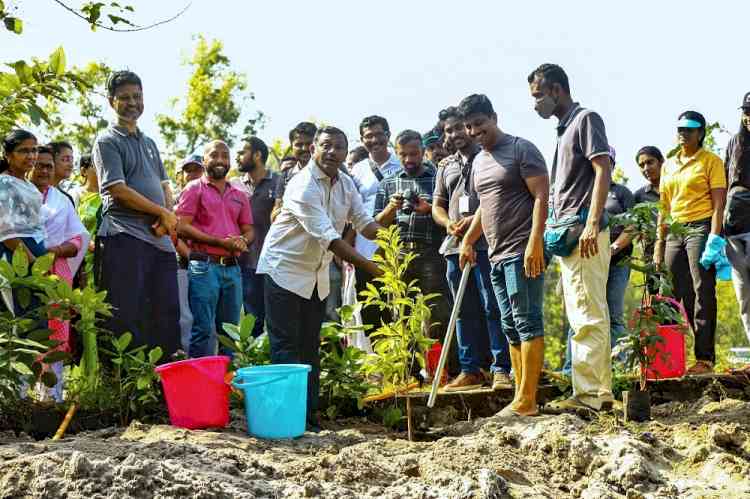 Alappuzha, January 27, 2023: UST, a leading digital transformations solutions company, celebrated Republic Day on Thursday, by planting over 4500 tree saplings at the Government Engineering College, Cherthala, Kerala. The event marked the beginning of UST's CSR initiatives for 2023.
More than 200 volunteers from UST, along with 100 volunteers from the college, converged at the Government Engineering College in Cherthala on the occasion of the nation's 74th Republic Day to plant saplings of over 90 varieties of trees on the college premises. The planting of saplings was undertaken as per the Dense Forest Method of afforestation.
The UST volunteers kicked off the sapling planting programme at 8:30 in the morning after the initiative was inaugurated by the Chief Guest, Dr. Dileepkumar P.P, Medical Director and Professor, AIARD. Felicitations were offered by Sunil Balakrishnan, Chief Values Officer and Global Head - Center Operations, UST, and Dr. Jaya VL, Principal, College of Engineering, Cherthala. The dignitaries planted the first saplings on the one-acre land lying along the Cherthala – Arookutty road in front of the college.
The volunteers were given planting instructions and split into teams of around 50 members each and were assigned to different parts of the plot. Each team was provided with the necessary materials, tools, and refreshments along with access to professional medical help, if and when required, during the full day programme. The teams successfully finished planting the 4500 saplings by the evening and watered them. The initiative was led by Prasanth Subramanian, UST Kochi CSR Lead, and supported by Nipun Varma, APAC – COLOR Catalyst, and UST COLOR leads.
"On the occasion of India's 74th Republic Day, we have kickstarted our CSR initiatives for the current year with the sapling planting programme. This is an auspicious start to our initiatives that give back to the communities around us by extending a helping hand in the most noble manner. UST is proud to see mass participation of our volunteers in this initiative, and we hope to take our community welfare programmes ahead in a major way," Sunil Balakrishnan, Chief Values Officer and Global Head - Center Operations, UST, said.
As the programme wound up, prizes were announced for the best sapling planting team. Prizes were also announced for the winners of the poster-making competition that was held as part of the programme. UST, a US-headquartered global technology and IT company, currently employs close to 10,000 employees in Kerala with offices in Thiruvananthapuram and Kochi.