UPL signs MoU with Shreenath Mhaskoba Sugar Mill for sustainable sugarcane production
UPL is eyeing to save 600 Cr. Ltrs of water and 500MT urea of fertilizers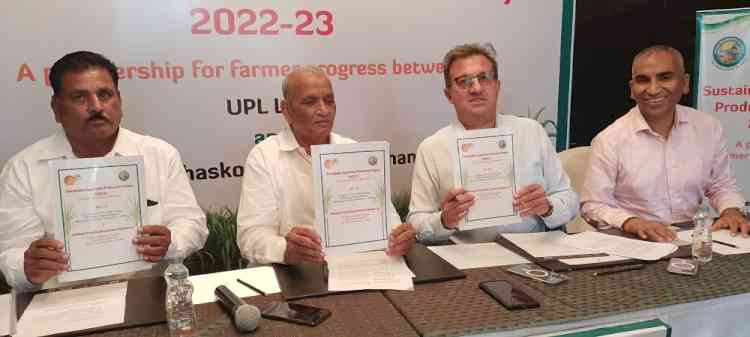 (L-R) Sadashiv Tilekar, Cane Manager, Shreenath Mhaskoba Sugar Mill, Pandurang Abaji Raut, Chairman, Shreenath Mhaskoba Sugar Mill, Jai Shroff, CEO, UPL Ltd, Ashish Dobhal, Regional Director, India, UPL Ltd during MoU signing.


Pune, June 14, 2022: UPL Ltd., a global provider of sustainable agriculture products and solutions, keeping the "Farmers First' approach, signed a memorandum of understanding (MoU) with Shreenath Mhaskoba Sugar mill for Sustainable Sugarcane Production. This MoU will address farmers' concerns and create the category of Sustainable Sugar by ensuring optimized usage of natural resources. Through this collaboration and with the help of revolutionary Zeba technology, UPL not only aims to increase the Sugarcane yield by 15% over 10,000 acres of land, but also reduce the input costs, leading to an increase in farmer profit and income. The drive will impact more than 4000 farmers over 70 villages.
Sugar industry requires major consumption of resources like water, inputs, electricity, labor, and fuel. Despite high consumption, the return on investment to each stakeholder is low. These resulted in various challenges for the farmer fraternity-like poor yield, increased investment cost, lack of labor, mechanization, short supply of electricity, and water, concerns in crop advisory, and yield guarantee that leads to a delayed harvest of matured sugarcane. Additionally, the increased demand for sustainable sugar and the severe impact on the ecosystem due to water wastage, leaching of nutrition, and higher electricity consumption was also a growing concern among farmers.
UPL has developed Zeba, a naturally derived, starch-based, completely bio degradable, super absorbent to address these concerns. Intended for in-furrow application, Zeba increases the water holding capacity of the soil, improves the nutrient use efficiency in the crop's root zone and has a positive effect on the soil microbiome, thereby maintaining soil health. It can absorb 450 times of its own weight in water and release it as per the crops' need. It is effective for six months in the soil and decomposes naturally and harmlessly into the soil. These properties mean crops consume less water, reducing agriculture's water footprint, which further leads to lesser electricity being used for operations like irrigation. The absorption of nutrient molecules for use later by the plant also means less fertilizer use per acre due to lesser leaching/wastage.
With the help of Zeba technology, UPL is eyeing to save 600 Cr. Ltrs of water and 500MT urea of fertilizer. In 2021 for sugarcane cultivation, Zeba was used across 25,000 acres of farmland by 12,500 farmers in 10 districts of Uttar Pradesh and 5 districts of Maharashtra. The impact it created was enormous. The yield increased from an average of 35-40 tonnes per acre to 50-80 tonnes per acre, a 50% increase
The MoU will also provide sustainable solutions to the Sugarcane farmers with end to end intervention in terms of advisory of Good Agronomical Practices (GAP), implementation of ProNutiva (Complete Crop protection and Nutrition Package), mechanization in terms of planters, earthing up machines and boom Sprayers, insurance and traceability through Nurture.farm app, to ensure implementation of sustainable sugarcane. The drive will run in phases, which in the long run will help farmers to establish Sugarcane Nurseries (Sugarcane Seeds), which can be sold to other farmers.
 
Pandurang Abaji Raut, Chairman, Shreenath Mhaskoba Sugar Mill, said, "We are constantly driven by our endeavor to provide best solutions to our farmers through our strong farmer connect. We believe, sustainable farming practices can address concerns that they are facing in Sugarcane farming. Our MoU with UPL, will ensure smoother execution of actions on ground to ensure all steps of Sustainable Sugarcane production is followed. This will result in More per Acre cane produced sustainably to ensure better yields and income for farmers."
 
Jai Shroff, CEO, UPL Ltd, said, "Sustainability remains a top priority for us and we are committed towards the same. We have made it our mission to change the game by making agri practices more sustainable. UPL is working towards creating sustainable technologies and platforms such as OpenAg, that is changing the way a whole industry thinks and works and facilitating progress for the entire agricultural value chain."
 
Ashish Dobhal, Regional Director, India, UPL Ltd, said, "We are encouraged by our vision of Reimagining Sustainability and we are dedicated to the success and well-being of our primary stakeholders, the farmers through sustainable agri practices. Maharashtra is an important market for us as it is the second most important Sugarcane growing state with Pune being the pioneering district of the state. We believe through this MoU we will be able to provide farmers with sustainable solution and Zeba's unique and revolutionary technology will completely change the game with regards to sugarcane harvesting. Besides being extremely beneficial to farmers, the product will also improve the quality of soil, resulting in benefits to the environment increased productivity and profitability of the farmers."