Upkar Singh Ahuja elected unopposed president of CICU
Ahuja is a veteran industrialists of Ludhiana engaged in manufacturing of auto parts and agriculture implements from more than three decades.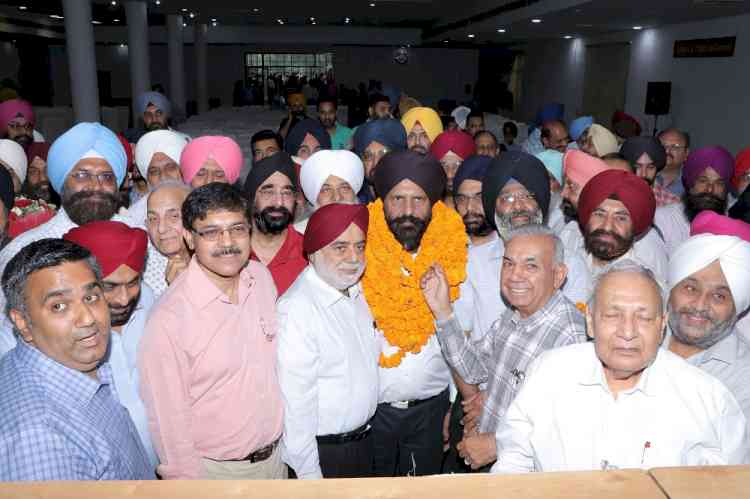 Ludhiana, April 23, 2022: Upkar Singh Ahuja is elected unopposed president of Chamber of Industrial & Commercial Undertakings (CICU) for the term of two years, which was declared by Presiding Officer Vishav Bandu Monga, Joint Director, Office of the Director of Industry & Commerce, Chandigarh after the Annual General Meeting held today at CICU Complex, Focal Point, Ludhiana.
Ahuja is a veteran industrialists of Ludhiana engaged in manufacturing of Auto Parts and Agriculture implements from more than three decades.  He is serving industry, which has been reeling under various stresses & bottlenecks due to the unfavorable State & Central Govt. policies. Sh. Singh holds key positions of prestigious business organizations as Chairman Punjab Small Industrial Development Board and was General Secretary of the Chamber for 2 terms. Sh. Ahuja, Group Managing Director of New Swan Group is the leading & guiding force for the growth & development Industry of the State. He also won many national awards from the State & Central Govt.
In his speech, he mentioned that CICU will attain its Non-Political image in future as desired by members. He further mentioned that we will take the CICU at next level so that it can serve MSMEs to great extent, new initiative like setting up Center for Manufacturing Excellence, Policy advocacy with center and state Govt. Raising funds for startups, improving quality, cost, delivery for micro sector units by giving services at their door steps. CICU is already in forefront at proving maximum benefits to the industry.
Ahuja assured that he will work hard for the growth and development of the industry to ensure that they emerge as growth engines of the economy. I shall make all out efforts for providing Punjab MSMEs adequate and timely credit at cost effective rates, facilitation of new and innovate technology transfer, training in skill development, marketing support and supportive infrastructure. I with the active support of all members and other trusted office bearers at the helm of affairs of CICU have planned many more activities and will be unveiled them periodically. Our team will continue to tide over challenges with greater confidence and gain strength to face the future.
Pankaj Sharma, General Secretary, CICU shared the activities of Chamber and highlighted that CICU always working to upgrade of the industry.
The Vote of thanks was present by Sh. J.S Bhogal, Vice President, Farmpart Company.
This meeting was attended by more than 450 Members comprising industrialists and traders including Onkar Singh Pahwa, S.B Singh, Harsimarjit Singh, Gautam Malhotra, Sarvjit Singh, Sanjay Dhiman, Satinderjit Singh Autom, Rajat Gupta, Honey Sethi, Anand Kumar, Avtar Singh Bohgal, Sudarshan Gosian, Phuman Singh, Ashok Juneja, Manmohan Singh Ubhi, O.P Bassi, Sanjay Dhiman, Honey Sethi, Ram lubhaya, Jaswinder Singh Thakural, Jatinder Mittal,  Rajnish Bansal, Kanish Kaura, Rajnish Ahuja, H.S Sachdeva, Gurcharan Singh Mankoo, Surinder Singh, Harbhajan Singh, Harkesh Mittal, Inderjit Singh Sohal, Sarvjit Singh Ahuja, K.K Garg, Er. AK Kohli, Charanjit Singh Vishwakarma, Madan Lal, S.P Singh and presidents and general secretaries of the various associations.