United Nations' Representative interacted with LPU Faculty and Students
Topic undertaken was "UN Contribution in Handling Global Challenges"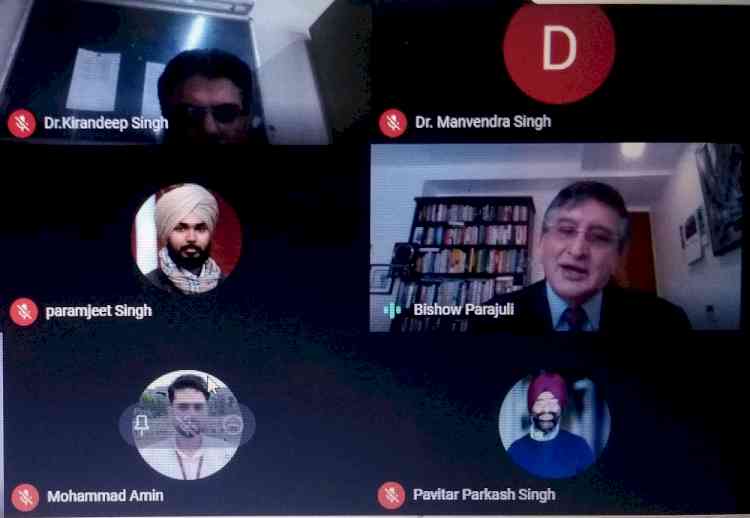 UN World Food Programme representative & country Director to India Bishow Parajuli interacting with LPU faculty and students.
Jalandhar: The Department of Government and Public Administration at the School of Humanities, Lovely Professional University (LPU), organized a webinar on "United Nations Contribution in Handling Global Challenges". Resource person for the virtual programme was the United Nations' World Food Programme (WFP) Representative and Country Director to India Bishow Parajuli. He has experience of 35 years in development, humanitarian affairs, diplomacy, fundraising and management in over 10 countries in Asia, the Middle East and Africa including WFP headquarters in Rome.
Bishow Parajuli conversed about the role of UN in handling the global issues like refugees' crisis, climate, diseases, COVID outbreak, food issues, poverty, technology, migration, safeguarding peace, protecting human rights, justice, and problems of governance & rule of law, atomic nuclear weapons, and many other concerns all over the world for UN. He elaborated various dimensions of the topic and discussed the challenges that the UN is currently facing, and also cited examples where the UN played a significant role in peace and security maintenance. He informed that the UN works at a country level, and operates in almost all countries of the world through its various bodies.
After the interactions, Mr Parajuli tweeted that he is much pleased to join faculty & students at the Lovely Professional University, with one of the largest students in India, where he shared global challenges. These challenges include hunger, climate change, SDG, works of World Food Programme & the United Nations system. He also accorded thanks to LPU Executive Dean Prof Dr Sanjay Modi, faculty and students for the opportunity meted out to him.
Bishow Parajuli has brought huge honour to the Punjab, with the WFP winning the Nobel Peace Prize 2020.  Mr Parajuli has completed his graduation from Punjab, with Master's degree in rural development from Imperial College, London. Prestigious prize to WFP is for its effort to combat hunger; contribution to bettering conditions for peace in conflict-affected areas; and, for acting as a driving force in efforts to prevent the use of hunger as a weapon of war and conflict.
Illustrative, the UN's World Food Programme is providing assistance to millions of people of nearly 100 countries. Being the world's largest humanitarian organisation, it is contributing tremendously by saving the lives of the millions, who are the victims of hunger and poverty. It has been working in India for the last 50 years. /(April 19, 2021)