Union Minister of State Rao Inderjit Singh inaugurated Tiranga Park, supported by M3M Foundation
M3M Foundation assisted in the construction of this Tiranga park in the Swatantrata Senani Bhawan in Civil Lines, Gurugram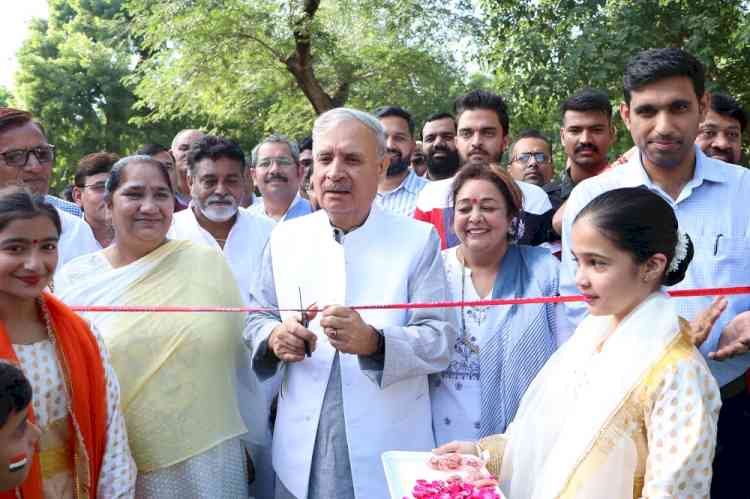 Union Minister of State Rao Inderjit Singh inaugurated the Tiranga Park, supported by M3M Foundation.


Gurugram, August 12, 2022: Under the Har Ghar Tiranga Abhiyan, the first Tiranga park has been set up in the city by the district administration. This park has been constructed with the support of the M3M Foundation in the Swatantrata Senani Bhawan located in Civil Lines, Gurugram. In this, 75 national flags of 12-foot height have been installed on the 75th anniversary of independence. Today, the park was inaugurated by the Union Minister of State, Rao Inderjit Singh, as the chief guest. On this occasion, Deputy Commissioner Nishant Yadav along with Dr. Aishwarya Mahajan, President of M3M Foundation were present.
 
On this occasion, the birthdays of 75 children from the city who were born on August 15th were celebrated by cutting a cake, making the day even more special.
 
Dr Payal Kanodia, Trustee, M3M Foundation said, "We are glad that the Foundation has been able to contribute towards the 'Har Ghar Tiranga' campaign and this Tiranga Park is a small effort from our side towards showing solidarity. The smiling faces of these kids whose birthdays are celebrated today make the event more special. "
 
With the inauguration of the park, the residents will be able to come to visit this Tiranga park. On behalf of the administration, every effort is being made at the administrative level to ensure the participation of the general public in the district. For this purpose, a Tiranga Park has been built on the premises of the Freedom Fighter Bhawan located in Civil Lines. Various selfie points have been created inside the park to involve youth power in the campaign and also to promote it on social media.
 
M3M Foundation, the philanthropic arm of the M3M Group, is working towards bringing about equitable growth with the vision of brighter India. Its major areas are education, the environment, health, disaster management, and socio-economic development. The Foundation believes in adopting an innovative approach to address social issues by developing a self-sustaining program.