`Ultimate Classic Mr North India 2020' Bodybuilding and Physique Championship held
Nearly 400 take part in this championship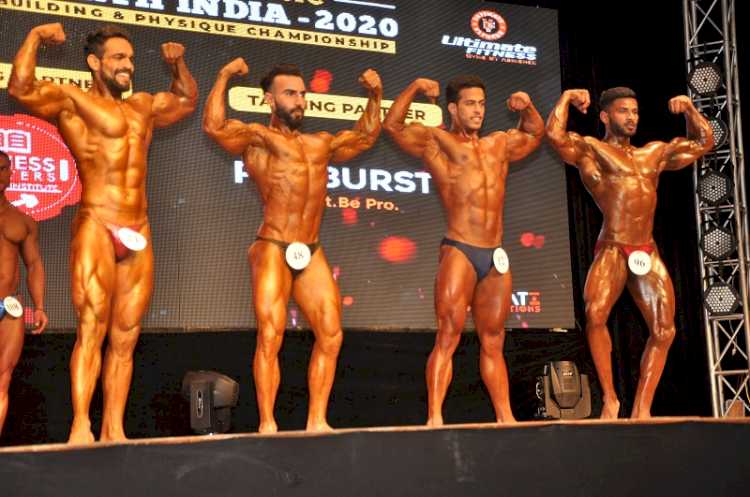 Bodybuilders showcasing their well built muscles and physique during Ultimate Classic Mr. North India Body Building & Physique Championship 2020.
Chandigarh: 'Ultimate Classic Mr. North India 2020' Bodybuilding & Physique Championship was held  at the Auditorium of Government Multispecialty Hospital (GMCH), Sector 32, Chandigarh..graced the occasion as chief guest. The mega competition was organised under the banner of Fitness International Federation (FIF), India.
Abhishek Gagneja, Founder of Ultimate Fitness Gyms and President, FIF Chandigarh said, "The Ultimate Classic Mr. North India 2020 was held successfully and around 400 athletes including men and women from across India participated, for coveted titles. The overall bodybuilding champion will get a chance to participate in Mr. Asia Singapore, which will be fully sponsored."
Rana Gurmit Singh Sodhi, Cabinet Minister (Sports & Youth Affairs), Punjab in his message given to organisers said, "The Ultimate Classic Mr. North India 2020 as a platform helped in channelising the energies of youth in the right direction. The sport can also provide economic benefits to young bodybuilders  if they take it up as a career. I congratulate Mr. Abhishek and his team for putting up such an event."
Harminder Dulowal, President of Fitness International Federation (FIF) and a FIF International Judge , Ms. Meenakshi, Advisor, FIF, Arun Kumar, VP, FIF, Punjab, Gursewak Singh Virk, General Secretary, FIF India, Sunil Sheoran, Delhi State President - FIF, Rohit Kumar, Gen Secretary (North India),  FIF were part of the jury.
 
Anupam Kaur, Head of Operations, Ultimate Fitness Gyms and Secretary FIF, Chandigarh said, "In the championship the participants competed in  different weight & height categories in competitive events like Body Building, Men's Classic, Men's Physique, Junior Bodybuilding and Women's Fitness Figure and a whopping Rs 5 lakh was the total prize money given out to the top 5 winners in each category."
A good response was witnessed in Junior Bodybuilding where there was an age criteria that the participant should be below 23 years of age. Many women came out and participated in Women's Fitness Figure which did not have any weight , age or height criteria.
Harminder Dulowal, President, Fitness International Federation (FIF) highlighted that, "The Ultimate Classic Mr. North India 2020 turned out to be a boon for all the body builders, as they got a professional platform to showcase their talent. The event  holds significance as it gave an opportunity to corporates and sponsors to identify talent and support the fitness athletes who show promise."
Experts present at the event informed that bodybuilding is the fastest growing sport in India. Earlier very few bodybuilding competitions were held, these have increased over the period of the last few years. Budding bodybuilders can even opt for bodybuilding as a professional career.
Mohinder Singh, Vice President (FIF) India said, "Many female body builders also took part in the competition. This trend is a positive one as it shows that women are feeling empowered to enter such fields which are considered to be a male bastions."
The 'Ultimate Classic Mr. North India 2020' will help in popularising bodybuilding and in generating awareness about the sport in the region.