UIPS, PU inaugurated 5thIBRO-APRC Associate School on theme "Neuropsychaitric and Neurodegenerative Diseases"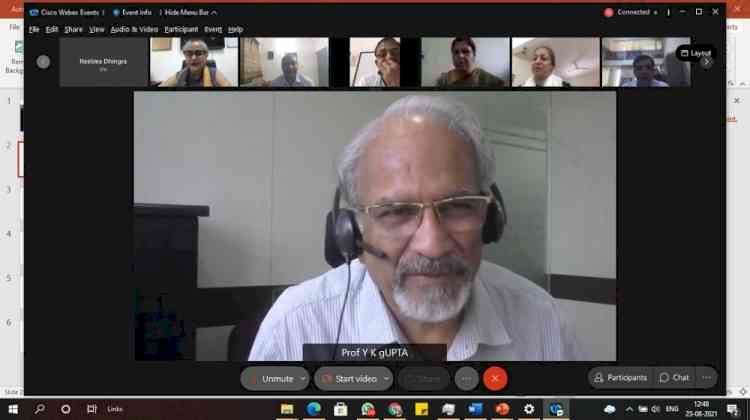 Chandigarh, August 23, 2021: University Institute of Pharmaceutical Sciences, Panjab University successfully inaugurated the five day long 5th IBRO-APRC Associate School today with the theme "Neuropsychiatric and Neurodegenerative Diseases". Around 45 participants from Asia Pacific Region are selected for this Associate School by the International Brain Research Organization (IBRO).International Brain Research Organisation is the global association of neuroscience societies that promotes and supports neuroscience training, education and collaborative research around the globe.
 
 The inauguration was preceded by a pre-inaugural lecture by Professor Anthony J Hannan, NHMRC Principal Research Fellow Florey Institute of Neuroscience and Mental Health University of Melbourne on the topic"Gene-environment interactions informing therapeutic approaches for cognitive and affective disorders". Professor Anil Dattatraya Sahasrabudhe, current Chairman of All India Council for Technical Education (AICTE) attended the Pre-inaugural Lecture.
 
Professor Indu Pal Kaur, Organising Chair and Chairperson UIPS extended a cordial welcome to the audience and shared the rich heritage and culture of the Institute along with its achievements. Professor Raj Kumar, Vice Chancellor Panjab University, presided over the event. He inspired the young budding neuroscientists by sharing his holistic perspective towards this domain and emphasized on the collaborative approach. Dr Anurag Kuhad,Organizing Secretary gave an overview of the 5th IBRO Associate Chandigarh Neuroscience School.
Professor Anil Kumar, Professor of Pharmacology and Former Dean, Faculty of Pharmaceutical Sciences introduced the Chief Guest of the occasion Professor Y. K. Gupta, Director, Principal Advisor, India Strategy Development-GARDP, DNDI & President AIIMS Bhopal & Jammu.
Professor Gupta apprised the audience about the legacy of Neuroscience in India which is still continuing to attain new heights being greatly recognized by Government of India and other national and international bodies. He gave an explicit overview of the etiology, complex interplay of neurotransmitters involved in neuropsychiatric and neurodegenerative diseases. He talked about gene involvement in Alzheimer's disease, Parkinson and so much more. At the end he urged the participants to open up their minds to think beyond, in order to unravel molecular mechanisms.
Chair, IBRO Asia-Pacific Regional Committee (APRC) Dr. Pike See Cheah from Malaysia educated the audience about the mission, core values, opportunities and grants offered by IBRO-APRC.
The event concluded with a vote of thanks by Professor Indu Pal Kaur and Professor Kanwaljit Chopra. More than 150 participants including national and international dignitaries, faculty colleagues and students joined the event.