UIET, PU developed UV disinfection chamber
The twin door disinfection chamber can be used for surface disinfection of packaged foods in restaurants for safe and sterile delivery of products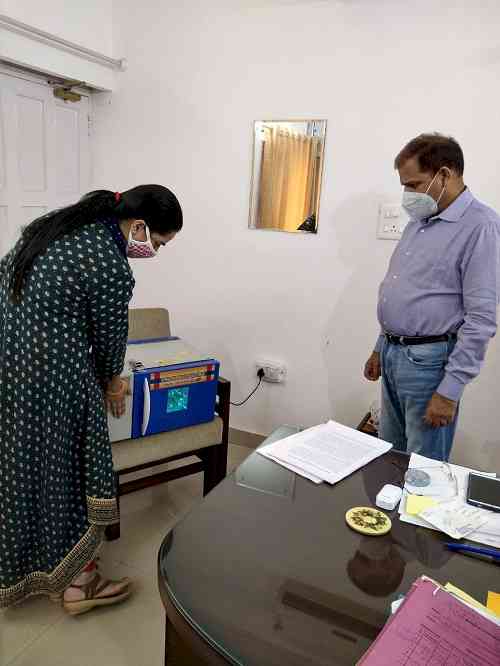 Chandigarh: A team of faculty members comprising of Dr. Neha Bhardwaj , INSPIRE faculty, Biotech., UIET and Dr. Sanjeev Bhardwaj ,Centre of Innovative and Bioprocessing, Mohali under the leadership and guidance of Prof. Raj Kumar, Vice-Chancellor, Panjab University and Prof. Savita Gupta ,Director, UIET in collaboration with AMESYS India, Ambala have designed and developed a UVC-based surface disinfection chamber.
The twin door disinfection chamber can be used for surface disinfection of packaged foods in restaurants for safe and sterile delivery of products. The developed "UVC surface Disinfection Chamber"can also be used for decontaminating the surfaces of files and folders in offices for maintaining the hand hygiene of users handling them.The item to be disinfected will be introduced from rear door and then subjected to UV irradiation. After the irradiation for 2-5 minutes, it will be notified to the customer/ delivery valet on the other side. The front door can then be opened, and the disinfected packaging can be taken out with safe handling (contactless delivery).
Recent outbreak of Corona pandemic has raised many concerns over the virus exposure to human via different fomites. A fomite is any inanimate object that when contaminated with or exposed to infectious agents (such as pathogenic bacteria, viruses or fungi) can transfer disease to a new host. Some studies have suggested that corona viruses may persist on surfaces for a few hours to several days depending upon different conditions. For example, wooden surfaces (4 days), plastic (2-5 days), paper (3h to 5 days), aluminum (2-8h), metal (5 days), and steel (2-28 days). The deactivation of COVID-19 virus is challenging due to its environmental stability. Because of such high risks, it is especially not to overlook the need of routine disinfection of daily articles. This  resulted in developing the UV Disinfection Chamber.