UGI organized seminar on gender equality and women's rights 
Event held on International Women Day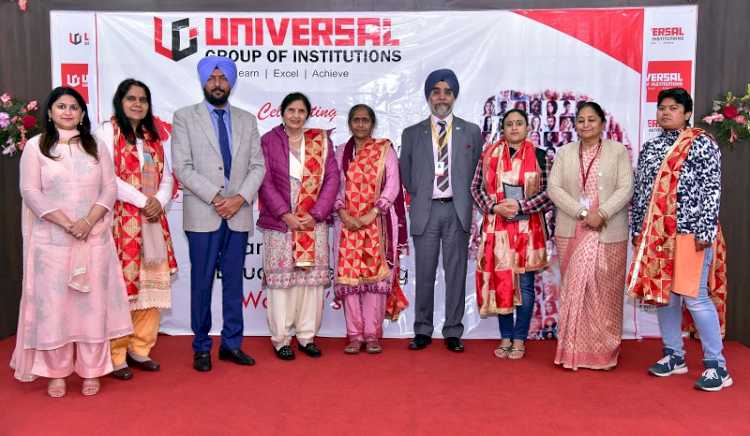 Mohali: Universal Group of Institutions conducted a gender equality and awareness seminar at its campus on International Women Day. The seminar explored the complex relationship between gender equality and differences analyzing its implications for fundamental rights. The seminar also focused on the issue of gender justice, gender violence and trafficking in women, highlighting the different perspectives on women's rights. 
Dr. Ameer Sultana , Chairman, Dept-cum-centre for women's Studies and Development, Panjab University, Dr.Gurminder Sidhu, Retd.Senior Medical Officer from Health Deptt. Panjab, MBBS, Dr.Mandeep Snehi, Prof. Punjab Constitutional College, Balachaur, Dr.Sukhbir Kaur, DAV College, Dr.Kamlesh Sidhu, Principal, RKSD college, Kaithal and Dr. Krishna Baachal Writer- Haryanvi were the guests of the day. They shared their views on the contributions of women in the up gradation of society. Apart from celebration of their achievements, the day is used to express our respect, appreciation and love towards the powerful gender.
Dr. Gurpreet Singh, Chairman, UGI said at the moment that the aim of this seminar was to provide a platform to deliberate various conventional and contemporary issues challenging the protection of women's rights. He further added that gender equality and the empowerment of the women are essential to our sustainable future. He later, also highlighted the challenges of women in the rural areas and that girls must have access to education and be encouraged to study as one of the ways to shatter glass ceiling. The main motto of the day was to Empowering Women, Empowering Humanity.