Two PU anthropology research scholars to present in prestigious forensic conference in USA
The American Academy of Forensic Sciences is one of the largest academies in the forensic discipline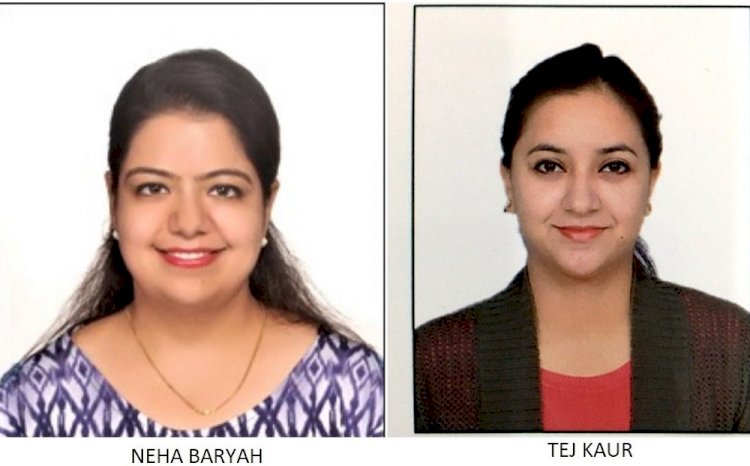 Chandigarh: Two Ph.D. research scholars, Neha Baryah and Tej Kaur from Department of Anthropology, Panjab University, Chandigarh, will be presenting research papers at the 72nd Annual Scientific Conference of the American Academy of Forensic Sciences (AAFS) to be held at Anaheim, California, US, from February 17 to February 22. The American Academy of Forensic Sciences is one of the largest academies in the forensic discipline where every year eminent forensic scientists from all over the world meet and discuss the advances and deliberations in the discipline. This year two PU research students have been selected to present their research findings at such a huge academic forum.
The studies entitled "Unusual fingerprint patterns in a North Indian Population- Implications in Forensic Casework and Fingerprint Research" and "The Application of Morphometric and Morphoscopic Features of the Nose in Facial Reconstruction: A Study on a North Indian Population" were conducted by Neha Baryah and Tej Kaur respectively in the Department of Anthropology. Both the research scholars are working under the supervision of Dr. Kewal Krishan, Associate Professor and Chairperson of the Department of Anthropology, Panjab University, Chandigarh. Dr Krishan is a globally renowned forensic anthropologist and his students are following Dr. Krishan's footsteps by actively engaging in research and participating in international meetings.
These unusual or rare fingerprint pattern findings are a peculiar character present on ten finger balls of an individual. The ridge-by-ridge analysis of the pattern type and its location on the entire fingerprint can help the law enforcement agencies to pin point and identify the suspected criminal. Neha Baryah, is working upon the fingerprint details of the individuals and how it can be of potential use to identify the person. She is exploiting the minute extricating details of finger ridges. Moreover, she has 11 research papers in different journals of international repute to credit.
 
Furthermore, personal identification through facial reconstruction is of prime importance in forensic examinations and the identification of the dead in mass disasters. The measurements and morphology of nose and ear will aid in determining the face proportions, thereby, helpful in facial reconstruction in forensic settings. Tej Kaur is actively working on the morphology and morphometrics of ear and nose body parts, in order to deduce their relationship with the human face. Both the students have keen interest in forensic anthropology and are postgraduates in Forensic Science and Criminology from Institute of Forensic Science and Criminology, Panjab University, Chandigarh.