Two-day online national symposium on Indian Education: Covid-19 impact, challenges and opportunities
Organised by Gujranwala Guru Nanak Khalsa College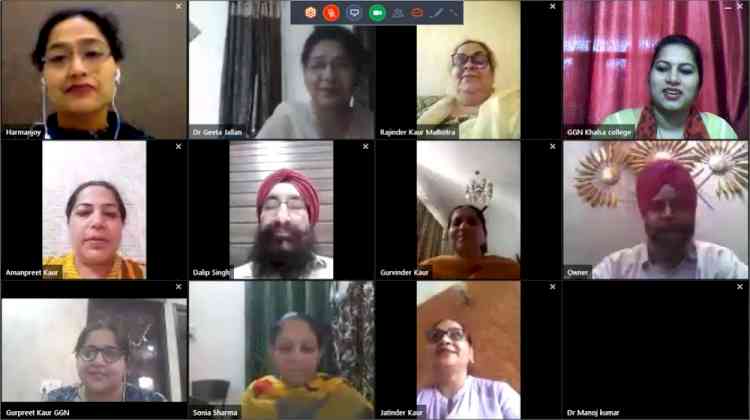 Ludhiana: Gujranwala Guru Nanak Khalsa College, Ludhiana, continuing the commitment, dedication and perseverance towards providing the best to its faculty and students in the field of education, has organised a two-day online National Symposium on Indian Education: COVID-19 Impact, Challenges and Opportunities.
The topic of symposium was introduced by Dr Hargunjot Kaur, Coordinator, IQAC in which she told that more than 200 participants from all over India have registered themselves. Dr Pankaj Mittal, Secretary, AIU, New Delhi, Prof. Amit Kauts, and Prof. Vandana Punia, Professor of Education, HRDC, Guru Jambheshwar University of Science and Technology, Hisar (Haryana) were the Chief Guest and the Resource Persons for the Inaugural Session respectively. 
Dr S. P. Singh, honourable president, Gujranwala Khalsa Educational Council (former Vice Chancellor, GNDU, Amritsar), in his welcome address mentioned the purpose and objective of the symposium as utilising the lockdown time to know about it's impact on the educational institutions, the challenges faced by various fields and the opportunities an individual might avail once the country gets back on its feet. He told that the Gujranwala Khalsa Educational Council has always been supporting the progressive approach of providing quality education to all its students during this frozen period of lockdown. 
S. Arvinder Singh, honourary General Secretary shared his views on the topic saying that in the era of web and technology there's nothing which can stop the learners to learn and this college is committed for the excellence in everything.
Dr Arvinder Singh, college Principal offered a warm welcome to all and extended his heartfelt gratitude to each and every learner and said that this symposium is an opportunity to utilise the time in learning about the new challenges which would be encountered by most of the people once the situation comes to normalcy. He further added that one needs to have the courage to convert the obstacles into opportunities, and pull up its socks to fight back. Dr Pankaj, in her inaugural address said that it's the need of the hour to understand the restrictions one would have to live with and should never mourn on the situation one has been facing for more than four months due to this Corona pandemic. The learning never stops, no matter what the situation is. The resource persons delved deep into the impact, challenges and opportunities this COVID-19 would leave behind. Prof. Mittal beautifully articulated terms like before Corona and after Corona and also talked about citizen social responsibility and College social responsibility. She gave an insight on free of cost learning management systems available online.
Prof.Kaut gave a very informative and knowledgeable PowerPoint presentation on professional human and social capital. He talked about blended learning , flip classroom model , Finland model of education and Singapore model of education.
Prof. Vandana Punia talked about technology supplementing but not replacing the teacher. She talked about arpit ,swayam, MOOCH Courses. She stressed that a teacher must be a good facilitator and engaging our learners was a great challenge during the pandemic times. She talked about videos , e-content and online exams and emphasized on the role of the teacher as friend,philosopher and guide.
Dr.Hargunjot Kaur proposed a vote of thanks to the esteemed cheif guest, resource persons and all the participants