TV artist Bhavika Sharma from Maddam Sir gets emotional 
"All 4 of us cried out of joy after receiving the response from our viewers", says Bhavika Sharma from Sony SAB's Maddam Sir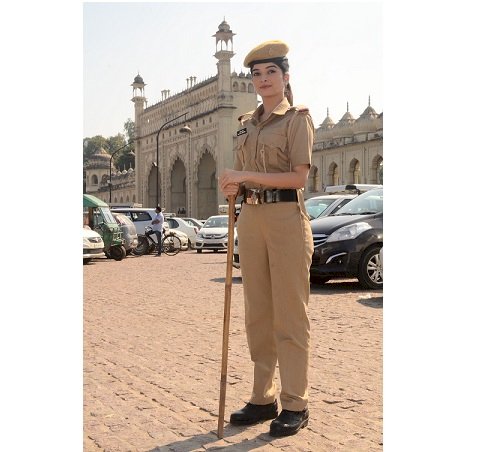 Bhavika Sharma as Santosh in Sony SAB's Maddam Sir.
•    How does it feel like to be a part of Sony SAB's Maddam Sir? What was your reaction when you were approached for the role of Santosh?
•    It has been such an amazing journey so far and it has only started. I am enjoying every moment of being a part of Sony SAB's Maddam Sir. In the beginning, the producer of the show wanted me to read lines for both Haseena and Santosh, but the moment I came to know about Santosh's character and understood her personality, I told them that I would love to play Santosh. Taking up the role of Santosh felt like it was meant for me and this is how my journey started on Maddam Sir.
•    How are you feeling to be a part of Maddam Sir?
•    I can't express how happy I am to be a part of the Maddam Sir family. I am grateful to be a part of a slice of life comedy show. Comedy is a genre that I'm exploring for the first time and I'm really enjoying every bit of this adventure.
•    Tell me something about your Character? What things do you relate with the character?
•    I think Bhavika and Santosh are a little bit similar. Santosh is really confused in life and Bhavika is also somewhat like her in real life. I feel I'm equally sassy as Santosh and I am so happy to be playing a character whom I relate with. Santosh and Bhavika also share the same chirpiness for life.
•    How have you prepared for the role, to grab the essence of the role?
•    I had to be cautious while playing Santosh as her character is confused about things. I had to maintain a thin line of being a little clueless and at the same time switch to being diligent and attentive when situations called for. So, as we have started shooting, it is sometimes challenging to maintain and switch between the different shades of Santosh's personality.
•    Santosh is trying to find the role model in Karishma or Haseena, so do you have any role model in real life?
•    Santosh is on a journey where she is trying to find her role model in Karishma and Haseena and in my life, my role models are only my parents.
•    In real life how do you handle challenging situations?
•    Calmly, I think anger is something which makes any situation worse. I'm a calm person when it comes to fights, so I feel that any situation can be solved with a composed approach.
•    The show has just begun and the fans are already pouring a lots of love for the show and the characters, so how does it feel?
•    We all cried out of joy after watching all the comments on the social media during the launch and after the launch of Maddam SIr. People are loving our show and we are so happy and excited for the support and appreciation that our fans have showered on us.
•    What can the viewers expect from Maddam Sir and what message you want to share with your fans through this show?
•    Maddam Sir is not only a comedy show but a slice of life show that sends a sweet message. It is a mixture of various emotions that a person goes through and this is something that makes the show stand out. So, keep watching and loving the show as we continue our journey to entertain and bring a big smile your way with a hint of jazbaat.