Trident Ltd donates 100 oxygen concentrators to Punjab Govt in fight against Covid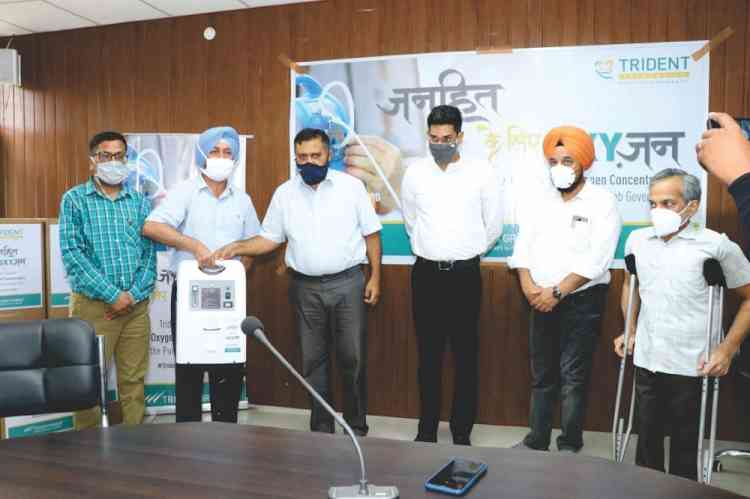 Trident Ltd today hands over a total of 100 oxygen concentrators to Tej Partap Singh Phoolka, DC of Barnala, at Barnala.
Chandigarh: In an effort to combat the pandemic and stabilise the healthcare infrastructure Trident Ltd today handed over a total of 100 oxygen concentrators to Tej Partap Singh Phoolka, DC of Barnala, at Barnala to aid the government in the fight against Covid-19.
Padma Shri recipient Rajinder Gupta, chairman of Trident Limited, said, "We believe in making contributions and providing support to the government in fighting the pandemic with hope and prayers for everyone's well-being. These are tough times and I request each individual to stay safe and help others, even a small contribution matters."
Oxygen concentrators will further be distributed in various districts of Punjab. The districts are: Barnala, Fatehgarh Sahib, Fazilka, Moga, Kapurthala and Sri Muktsar Sahib.
An oxygen concentrator filters oxygen from the atmosphere and can help boost oxygen level. It is essential as it helps in buying crucial time when the patient's oxygen levels drop. Deploying oxygen concentrators at hospitals will also help in reducing dependence on refilling cylinders and their transport.

 
Aditya Dachalwal ADC, IAS, Dr Jasbir Singh Aulakh, Civil Surgeon Barnala, Dr Jyoti Kaushal SMO Barnala, Retired IAS Gurloveleen Singh Sidhu (ex DC Barnala) Rupinder Gupta, Vice President Trident Ltd were also present on the occasion today.
Besides supporting the government in its endeavours, countless measures have been taken to ensure the well-being of the employees and their family members. Recently, the 4.0 Leadership Summit & Awards 2021 during a virtual event had awarded Trident Group with three prestigious awards – 'Valuable Employer during Covid-19 Award 2021', 'Best Workplace for Women Award 2021' and 'Employer of Choice Award 2021'.  The prestigious HR Association of India had also conferred Trident Limited with the coveted Platinum Award in the Most Innovative COVID Response category in HRDA -2021.
Steps such as free vaccination for all employees and their family members were taken by the company.To ensure that the members of the organization feel emotionally connected, a morning town hall takes place every day wherein the well-being of all employees is discussed and remedial measures are undertaken wherever applicable. If some member tests Covid positive, then they are granted 14 days special paid leave and offered medical support.  The group has also tied up with multi-specialty hospitals for home care, ICU set up and tele-consultation for medication of its employees.
"Mein Hoon Na', a volunteer group of employees and special task force, has been constituted to make arrangements for providing meals and food delivery to the Covid Positive employees and their family members (if required). This task force also maintains a constant personal touch with the affected member through phone calls and visits whenever required. A helpline has been instituted to exclusively address any emergency requests from the employees. The morale of the members who are volunteering and working tirelessly to make on-ground arrangements is boosted with regular reward and recognition events. 
Awareness sessions are conducted to spread awareness about the ways to prevent the spread of Covid-19. Special sessions are conducted by the experts on nutrition, physical and mental health to keep the spirits high during these tough times.