Trident launches Samarth – Skill development of rural youth under Ministry of Textiles
Students under this program shall be trained in-campus at Takshashila Complex, Dhaula for duration of 7 weeks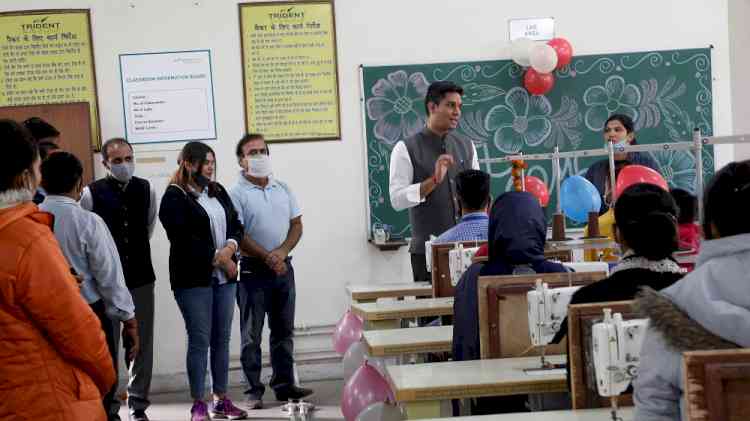 Ludhiana: As a leader in textiles, Trident has always been in the forefront for the growth of the industry. And as a conscientious organization with a conscience, Trident has always been playing a pivotal role in skill development projects, especially among the rural youth of the country. It has been collaborating on different schemes and projects both with Central and State governments of India.

In this context, Trident inaugurated the first batch under project SAMARTH for Capacity Building in Textile Sector at Takshashila, Dhaula. Samarth is a Central Government project in collaboration with MoT (Union Ministry of Textiles).  The grand inauguration was done by the Shri Aaditya Dachalwal, IAS, Additional Deputy Commissioner. As part of the guided tour, he took a round of the impressive Takshashila Centre of Trident and addressed the enthusiastic students of the batch with words of wisdom and motivation.

In addition, a plantation activity was carried out by the Chief Guest in presence of other guests and the Learning & Development Team of Trident.  Besides, signifying the needs of skill development in the youth for perfect 'blossoming' in the future, it also laid emphasis on Trident's strong accent on green development.

Students under this program shall be trained in-campus at Takshashila Complex, Dhaula for duration of 7 weeks, during which continuous and rigorous classroom sessions and practical sessions will be covered. They will be provided a total of 300 hours of training which will include 210 hours of practical training and 90 hours of classroom training. Special classroom sessions will also be conducted for the students under English and Soft Skill development for confidence building and overall personality development.  During the duration of training, if any student wants to stay within the campus, the same will be arranged for them in the hostel dedicated to such projects.