Trident Group's Rishton ka Bandhan Campaign celebrates coming together of loved ones on festivities
The new collection features exquisitely-crafted bed and bath linens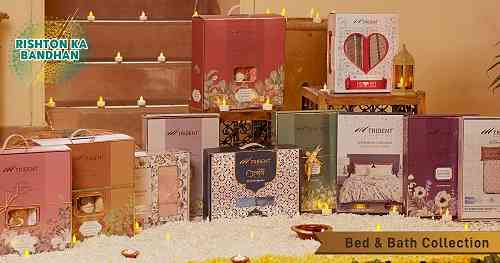 Chandigarh/ Ludhiana: Diwali fervour is almost upon us and it's time to get together with loved ones and prepare for a joyous celebration. What better way to make family and friends feel truly special than by surprising them with gifts that show you care! Trident Group's festive digital campaign captures this beautiful emotion in its latest festive campaign #RishtonkaBandhan.

Commenting on the launch of the campaign, Rajneesh Bhatia, CEO, Trident Group said, "Diwali celebration cannot be complete without dressing up our homes for a refreshing, festive look and gifting our family and friends. A beautifully decorated home plays an integral role in creating memorable moments that bring the family together. We have conceptualized this campaign to induce a sense of appreciation for family amongst our consumers and reinvigorate the pleasure of finding the right gift for our loved ones. With playful interactions and emotions, elegant festive background and a beautiful narration in the heart-warming voice of veteran actor Piyush Mishra, the campaign aims to inspire customers to cherish the spirit of togetherness on festivities."

The new collection features exquisitely-crafted bed and bath linens that aim to provide a premium offering to customers to celebrate the festive traditions with their loved ones. The elegantly designed range oozes comfort and luxury and is an ideal choice for gifting to create festive memories that they will treasure forever. 

The #RishtonKaBandhan campaign features voiceover by celebrated actor, theatre director, playwright and voice over artist Piyush Mishra, instantly striking a chord with the audience. The campaign film celebrates the spirit of the season by putting the spotlight on the beauty of family bonding and subtly builds on the importance of the joy of gifting.