Trident Foundation takes another step towards women welfare
Free Sewing and Tailoring training centres established by Trident Foundation at Jalwana village of Malerkotla district, Rureke Kalan village and Dhaula village of Barnala District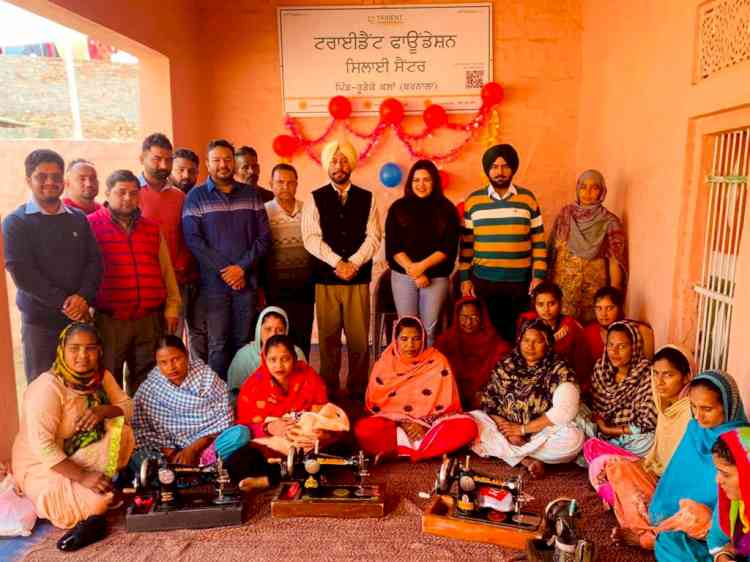 Ludhiana, December 14, 2021: Endeavouring towards an Atma Nirbhar Bharat, Trident Foundation, a not-for-profit organization of the Trident Group is running numerous initiatives to make rural women self-reliant. Stepping further to motivate rural women towards self-employment, Trident Foundation has initiated a special project to establish Free Sewing & Tailoring training centres in rural areas of the Punjab wherein women from BPL families and with no means to earn livelihood for themselves or their families, especially the single mothers will be provided with free training in Sewing & Tailoring.
Trident Foundation has been getting great support from the village administration and local authorities in setting up of these centres.Trident Foundation plans to open five such training centres in different areas of rural Punjab by the year end.
Recently a free-of-cost Sewing & Tailoring training centre was inaugurated at Jalwana village of Malerkotla district in Punjab in association with 'Sukhveer Singh Memorial Charitable Trust.' This centre was inaugurated by Mr. GK Singh Dhaliwal, Ex-IAS, and his wife Mrs. Neelkamal Dhailwal, who has been an active promoter of women rights and women empowerment projects and initiatives. They also showed interest in running more skill centres in the area under Trident's Takshashila Centre of Excellence.
A similar free-of-cost Sewing training Centre was opened at Rureke Kalan village, Barnala District for the rural young and middle-aged women dwelling in the area.  Starting with 25 female students, the aim is to grow bigger and reach the masses soon. The centre was inaugurated by Ex-IAS Mr. Gurlovleen Sidhu, the senior staff of Trident Foundation, and the village administration representatives.
Earlier, the first centre was launched in October, 2021 in Dhaula village, Barnala district of Punjab.
Padma Shri Rajinder Gupta, Chairman, Trident Group, said, "These centres shall serve as an extension of our efforts towards women empowerment and upliftment of rural women. We shall also be promoting our Hastkala initiative through this programme which will make them financially independent."
Trident Ltd. was recognised as one of the Best Workplaces for Women 2021 by Economic Times that has stepped forward to make a difference and successfully created a new benchmark for Diversity & Inclusion in Corporate India. Trident Limited was recognised for its outstanding initiatives and policies to safeguard the interests of women professionals. It ensures that the bar of equality, safety, diversity and inclusion at the workplace is not just met but also raised higher.
Trident also has a dedicated Diversity & Inclusion council named ASMITA to ensure zero gaps in hiring, compensation and promotions that takes care of children for working women, provides flexible working hours, menstrual leaves and gives preference to women sole earners in hiring.