Trident Cup T-20 cricket tournament- A report
Gurkeerat Mann's all-round show wins game for Punjab Reds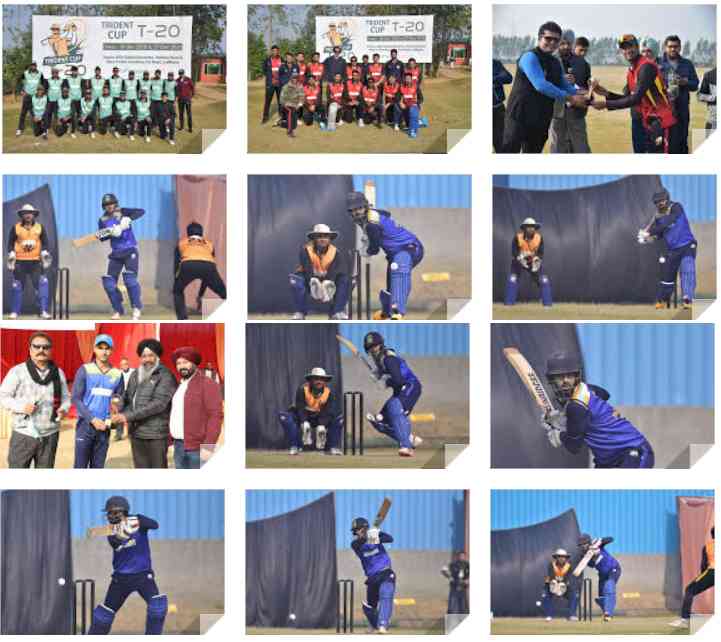 Ludhiana: In the ongoing Trident Cup t-20 cricket tournament being organised jointly by Ludhiana district Cricket association and Hara cricket academy, Ludhiana, Star studded Punjab Red beat Jalandhar XI by 5 wickets in their first league match and gained 2 pts.
Jalandhar XI won the toss and elected to bat on a bright sunny day. A useful third wicket partnership of 57 runs between opener Azam Nazar (39 runs in 34balls, 6 fours) and Abhishek Gupta (22 runs in 26 balls) helped Jalandhar XI to score 111 for 8 in 20 overs. For Punjab reds India player Sandeep Sharma (4-0-27-2wkts), India player Siddharth Kaul (4-0-17-2) and another Indian player Gurkeerat Mann (3-0-19-1) bowled well.
In reply Punjab reds started well with IPL players Abhishek Sharma ( 20 runs of 19 balls, 4 fours) and Prabhsimran Singh (18runs of 20 balls, 1 four, 1six) stitched a partnership of 39 runs. India Player and Punjab captain Mandeep Singh scored 24 of 23 balls, Gurkeerat Mann 22 of 14 balls (3 fours,1 six) and rising star Anmolpreet Singh 16 not out helped their team achieve the target in 19 overs.
Gurkeerat Mann of Punjab reds was declared Man of the match for his all round performance.
BRIEF SCORE:- 
JALANDHAR XI- 111 for 8 in 20 Overs
Azam Nazar 39 runs, Abhishek Gupta 22 runs
BOWLING-
Sandeep Sharma: 4-0-27-2, Siddharth Kaul: 4-0-17-2, Gurkeerat Mann: 3-0-19-1, Harpreet Brar: 4-0-15-1
 
In the second Match played at GRD academy ground Ludhiana, Punjab Blues beat Mohali legends by 39 runs. Punjab Blues won the toss and decided to bat first. An opening partnership of 98 runs between Sanvir Singh 98 not out of 60 balls ( 7 four, 7 sixes) and Abhijeet Garg 52 runs of 35 balls (4 fours and 3 sixes) laid the foundation of their team and Punjab blues finished on 175 for 5 wickets in 20 overs. For Mohali Maninder Singh ( 4-0-25-2wkts) and Saurabh Dhaliwal (4-0-27-2wkts) bowled well for their team.
In reply Mohali legends could manage only 136 for 9 in 20 overs thus losing the game by 39 runs. For Mohali Sachin Sohal 39 runs of 35 balls (3 fours, 1 six) and Jasinder Singh 17 runs of 12 balls ( 2 sixes)  batted well. For Punjab blues Karan Kaila (4-0-13-4wkts), Birender Sran (4-0-35-1) and Rahul Sharma (4-0-26-2wkts) were instrumental in restricting Mohali legends to 139 runs, hence enabling their team to win and claim 2 pts.
Sanvir singh of Punjab blues was adjudged as the Man of the match for his brilliant batting.
BRIEF SCORE:-
PUNJAB BLUES 175 for 5 wkts in 20 overs
Sanvir Singh 98 not out, Abhijeet Garg 52 runs
BOWLING : Maninder Singh 4-0-25-2wkts, Saurabh Dhaliwal 4-0-27-2
MOHALI LEGENDS:-
136 for 9 in 20 overs
Sachin Sohal 39 runs, Jasinder Singh 17
BOWLING: Karan Kaila 4-0-13-4wkts, Rahul Sharma 4-0-26-2
Tomorrows Matches
•        Punjab Blues vs Amandeep Club, Amritsar at Hara cricket Ground
•        Punjab Reds vs Patiala colts at GRD academy ground