Trident Cup T-20 cricket tournament
Mandeep Junior stars in Jalandhar XI win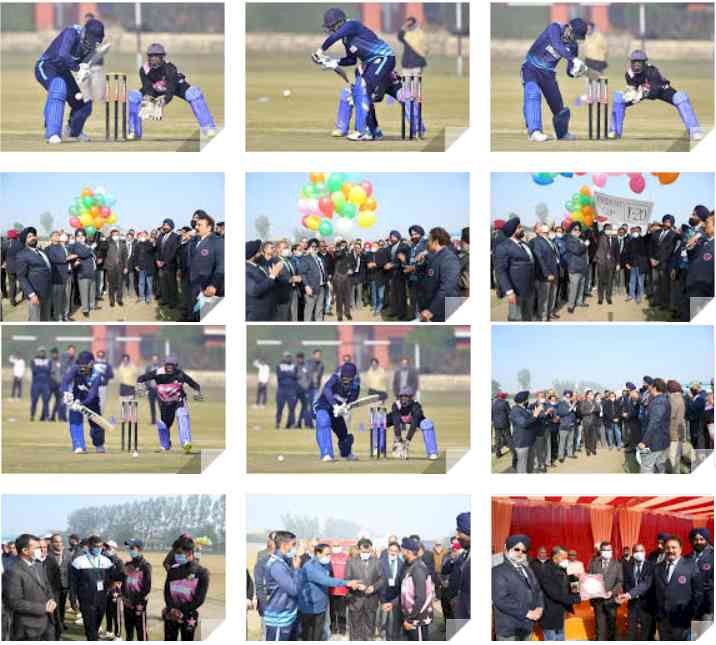 Ludhiana: Cricket action returned to Ludhiana, after a break of 28 years on December 18 as the inaugural edition of the Trident T20 Cup Kicked off at GRD Academy and Hara Cricket Club Ludhiana today. All 8 teams – Punjab Reds, Patiala Colts HRCF, Jalandhar XI, Malwa , Heroes, Punjab Blues, Ludhiana XI , Mohali Legends and Amandeep Cricket Club will play each other thrice in the league stage between December 18 and 27th ,2020. The same was attended by Bhupinder Singh Sr, former International player & member of the organising committee, Satish Kumar Mangal, former Ranji Trophy player & President Ludhiana District Cricket Association (LDCA).
Rakesh Aggarwal, Commissioner Police, Ludhiana was the Chief Guest for the inauguration ceremony and in his words of encouragement said that Ludhiana cricket has full potential to have its own IPL Team and Trident T20 cup will prove to be  a game changer in giving a huge momentum to cricket in Ludhiana.
Speaking on the occasion Rajjnder Gupta the current President of Punjab Cricket Association, and Chairman of Trident Group assured all the support to Ludhiana District Association in retaining the old glory  in cricket to Punjab by aiming once again for Ranji Trophy and producing World Class Cricketers
The key takeaways of two matches played on the inaugural day are given below
In the first match played at Hara Cricket Ground, Ludhiana between Jalandhar XI and Malwa heroes, Jalandhar XI won the toss and elected to bat. Brilliant batting by Mandeep Singh Jr ( 70 runs of 56 balls, 2 sixes and 4 fours) helped Jalandhar XI in pilling up 152 runs in 20 Overs. Manish and Manpreet claimed 2 wickets each for Malwa heroes. In reply Malwa Heroes despite a brilliant 61 of 40 balls (4 sixes and 5 fours) by Mahavir Singh could muster only 111 all out in 18.3 overs for Jalandhar XI, seamer Aryaman Mehra claimed 3 for 11 and was well supported by Harit Sacher 2 for 15 and Gaurav Bhatti 2 for 12. Jalandhar XI won the match by 41 runs and claimed 2 points for this win.
BRIEF SCORE
JALANDHAR XI:- 152 for 7 in 20 overs
Batting:-MANDEEP JR 70
Bowling: - MANISH 2 FOR 35
MALWA HEROES:-111 all out in 18.3 overs
MAHAVIR SINGH 61
MANDEEP SINGH Jr of Jalandhar XI was adjudged as Man of the match.
BOWLING:- ARYAMAN MEHRA 3 for 11, HARIT SACHER 2 For 15, Gaurav Bhatti 2 for 12
In another nail biting finish match at GRD Academy, Ludhiana between Ludhiana XI and Amandeep cricket club, Amritsar, the toss was won by Ludhiana and they decided to field first. Amandeep Club, Amritsar scored 151 for 2 in allotted 20 overs, their main contributors were Rohan Marwaha 84 not out in 57 balls comprising 5 sixes and 5 fours. He had an opening partnership of 73 runs with Abhay Choudhary 29 Runs of 35 Balls. In reply Ludhiana XI 155 for 7 in 19.5 oversand won the match by 3 runs claiming 2 points. Main contributors for Ludhiana XI were Sunny Pandey( 57 runs of 44 balls) And Arjun Puri32 runs of 19 balls. Sumit Sharma bowled well for Amritsar XI, claiming 2 for 32.
Sunny Pandey of Ludhiana XI was adjudged man of the match for his brilliant Batting.