Treatment of Blood Cancer including Bone Marrow Transplant now available in Paras hospitals Panchkula: Dr Ajay Sharma
Says, India having 3rd highest number of Hematological cancers in World after US and China and India likely to have 1.17 lac new cases of blood cancer in 2015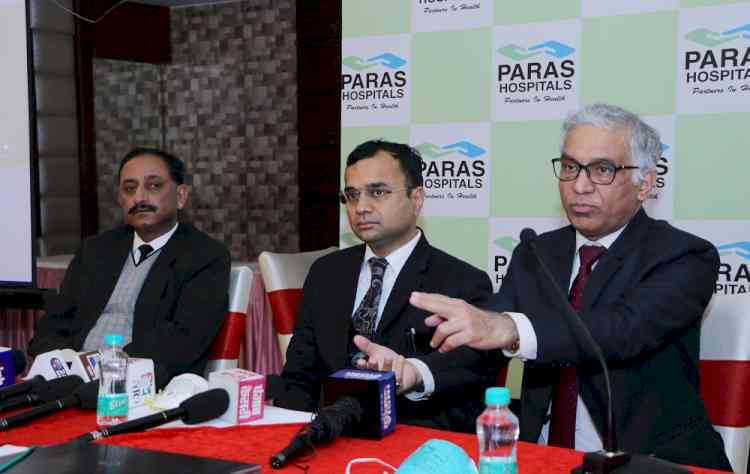 Chandigarh: To Create awareness on "Blood Cancers and options of Bone Marrow Transplant in North India"  a team of Doctors from Paras Hospitals Panchkula  addressed the media person today. Present on the occasion were Dr ( Brig) Ajay Sharma - Director & HOD Hematology, Dr ( Brig) Rajeshwar Singh - Director Medical Oncology & Dr Deepak Singla-,Consultant Medical Oncology, from Paras Hospitals Panchkula.         
Speaking on the occasion Dr Ajay Sharma apprised that Bone Marrow Transplant is a non surgical procedure in which damaged or diseased stem cells are replaced with healthy stem cells. This complex procedure is performed in very Few Hospitals in India even though the  success rate for bone marrow transplants in India is at par with international benchmarks. He shared that India is having 3rd highest number of Hematological cancers in World, after US & China and India is likely to have 1.17 Lac new cases of Blood cancers every year. 
A bone marrow transplant is usually offered as a solution for certain kinds of cancers as well as some other diseases which affect the production of blood cells. Dr Ajay Sharma also shared that every big city in the United States has 2-3 BMT canters". In comparison, India, with five times its population, has just handful of hospitals which offer Bone Marrow Transplant, as such It isn't just the disease that kills most blood cancer patients in India – it's the wait. Another irony is that on a population of 125 Crs India has very few Specialists, who are trained for BMT. 
Dr Ajay Sharma also said that Paras Hospital would be the first private sector Hospital in Chandigarh Tricity Region,  to start Allogenic as well as Autologous Bone Marrow Transplant. Also, the Center will be conducting Unrelated and haplo- identical matches BMTs. The latter are needed when a matched donor is not available in the family. 
Speaking on this occasion, Dr Rajeshwar Singh said that Bone marrow transplant is the only treatment which can result in the long-time survival in patients of Refractory Blood cancer" which do not respond on chemotherapy drugs. He apprised the Media people that there are about 65000 -67000 Thalassemia Major patients in India and every year 9000- 10000 new cases of Thalassemia diagnosed in India every year and BTM is the treatment of choice for Thalassemia cases. In BMT procedure, the diseased or damaged bone marrow (a soft, spongy blood forming tissue present in the cavities of bones) is replaced with healthy bone marrow with the replacement marrow mostly from blood relations like brother/sister and parents.
Dr( Brig) Rajeshwar further highlighted "Major Indications for Bone Marrow Transplant are : Thalassemia, Aplastic Anemia, Acute Leukemia, Sickle Cell Anemia, Lymphoma, Multiple Myloma & Myelodysplastic syndrome. 
 
On the occasion, Mr. Ashish Chadha, Facility Director – Paras Hospitals Panchkula shared that Pars Hospital Panchkula is going to offer complete spectrum of Bone Marrow transplant services, including Autologus & Allogenic Transplant under one roof and patients of Tricity, Haryana, Himachal & Punjab would be extremely benefitted with our BMT services. He also shared that Max Hospital Shalimarbagh in on panel of Haryana Govt, Himachal Govt , CGHS, All Major TPAs & Corporates where by Patients get Cashless treatment/ Reimbursement for all type of Cancer Treatment at Paras.