Training of faculty innovation ambassadors concludes at LPU 
Trained Innovation ambassadors will pave path of innovation and entrepreneurship for students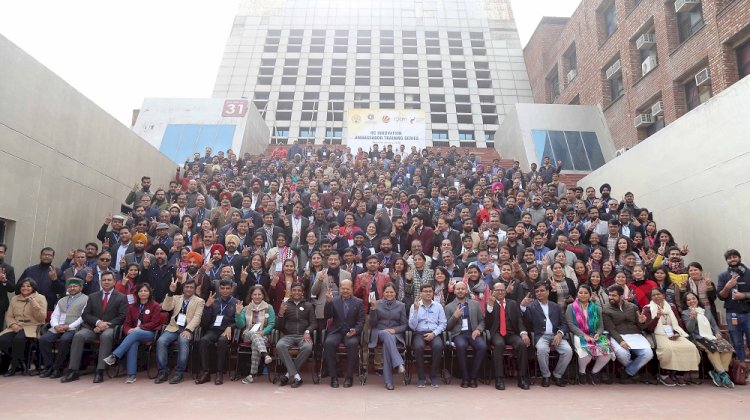 Hundreds of Innovation Ambassadors along with LPU Pro Chancellor Mrs Rashmi Mittal and Mentors present at LPU Campus during conclusive day of MHRD's training programme.
Jalandhar: Two-Day training of "Faculty Innovation Ambassadors" concluded, today, at Lovely Professional University (LPU) on promising notes. 25+ Mentors from MHRD's Innovation Cell built mentorship capacity of 300+ IIC members through a series of 4 training programmes. The trained IIC members will be designated as "IIC - Innovation Ambassador" to further mentor students aptly for innovative entrepreneurship. The training of "Ambassadors", at LPU, was constituted on Design Thinking and Innovations; IPR & Technology Transfer; Entrepreneurship Development; and, Pre-incubation & Incubation Management.
For 'Design Thinking and Innovations' training, 4-Member NODES team of Prajakta Kulkarni (Founder), Sanket Inamdar, Mrunal Dabir and Trupti Bal trained members by telling them about the importance of values, empathetic observation, research methods, designing unique solutions to problems and leadership. Pooja Dodd (Managing Partner Dodd & Co. New Delhi) informed about Intellectual Property Right by introducing to innovation and patent, copyright, branding, trademarks and technology transfer. Similarly other sessions forwarded valuable thoughts in very simple manner. In this regard various exercises were also developed. It was told to the learning members to learn first of all to be an innovator, only then they can teach others on innovations.

The recipients of these training programs will now join the Ambassadors nationwide network and perform the role of mentor in their respective IICs. They will provide support to other IICs as resource person in organising various programs related to innovation and start-ups. They will also spread the message of innovation & start-up among the students and faculties. Further, there will be some incentive opportunities for Innovation ambassadors for the services offered during post training period, and to connect directly with MHRD's Innovation cell. They will also earn certain reward points for IICs to take part in this process.
Appreciating the nicest possible arrangements at LPU campus, two of the learning members, Dr Priyanka Kriplani of GGS College of Pharmacy (Haryana) and Dr Lakshmi Pasricha from Delhi University shared: "We are very happy to receive marvellous training through hard endeavours of MHRD to lead country on the economic strength. Such efforts are sure to bring a possible end to unemployment also."  In fact, considering that country's Higher Education Institutions are lacking in innovation and start-up mentor capacity to further guide students, Institution's Innovation Council (IIC) of MHRD's Innovation Cell is determined to build mentorship capacity of IIC members. 'Innovation' inspiring minds from all across India, including those from All India Council for Technical Education (AICTE); MHRD's Innovation Cell; Institution's Innovation Council (IIC); Creative India, and many prosperous start-ups participated./(Jan 17, 2020)