Trailer of 'YaarAnmulle Returns' released
Film will release on 27th March 2020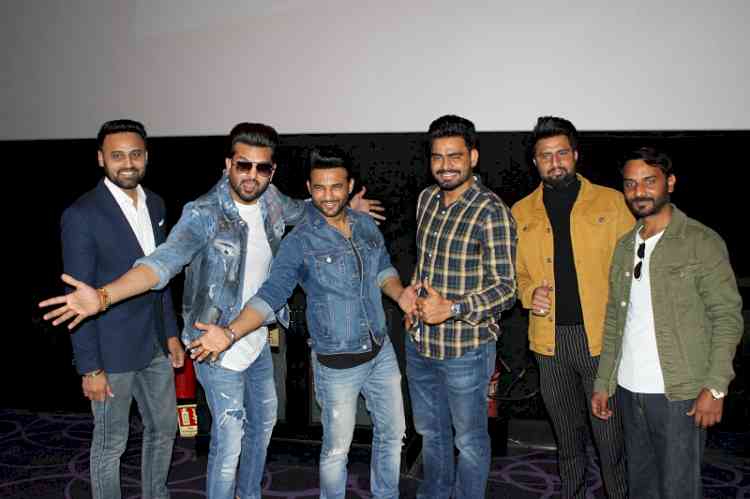 Chandigarh: Shree Filmz & Jarnail Ghumaan in association with Batra Show Biz, They See Records are presenting upcoming Punjabi film, Yaar Anmulle Returns. The film will narrate the story of three friends, their bond, heartbreak, romance which is all set to release 27th March 2020.
Recently, the makers of the film released the teaser of the film, which got overwhelming response from audience. The film stars Prabh Gill, Yuvraj Hans, Harish Verma in the lead roles along with Navpreet Banga, Nikeet Dhillon and Jasleen Slaich marking the debut of both Prabh Gill and Jasleen Slaich. The film is directed by Harry Bhatti, who previously directed Rabb Da Radio and Aate Di Chidi. 
Entire project is produced by Amandeep Sihag, Adamya Singh, Amandeep Singh, Mithu Jhajhra, Dr. Varun Malik, Pankaj Dhaka. The film is co-produced by Raj Suri and Inderjit Gill is the creative producer of the film. Gurjind Maan has written the story of Yaar Anmulle and the music of the film will release under the label of Speed Records. 
On the occasion of trailer release director Harry Bhatti said, "Yaar Anmulle impacted the industry and masses on new levels. So making its sequel with fresh faces and energy is a big challenge and the entire team felt the need to deliver it in the best way. To make it appealing to wider audiences we try to blend different cultural backgrounds like Himachali, Haryanvi and Punjabi. I hope the audience likes the film and appreciate our hard work."
Yuvraj Hans, the lead actor said, "I had worked in Yaar Anmulle (2011) and getting to work in its sequel is nothing but good luck for me. I am really thrilled to see how the audience responds to Yaar Anmulle Returns."
Prabh Gill, the lead actor said "It was a privilege for me to get the chance to work in the sequel of Yaar Anmulle. I liked the first part very much and it was like a dream come true for me working with the team of Yaar Anmulle returns."
"Yaar Anmulle is a tale of friends and I am certain that it will take the viewers down the memory lane of their golden times. I am really excited for the masses to see the video", said Harish Verma who is also the lead in the film.
"We are confident about Yaar Anmulle Returns that the audience will support this film the same way they supported the first part. Though its first part has a loyal and strong fan base, we are sure that the viewers will not let us down", said Adamya Singh the producer of the film.
The worldwide distribution of this film is done by White Hill Studio. 'Yaar Anmulle Returns' will release on 27th March 2020.