Trade Unions support bandh against corporatization of agriculture 
Take out procession from Jagraon Bridge to Bharat Nagar Chowk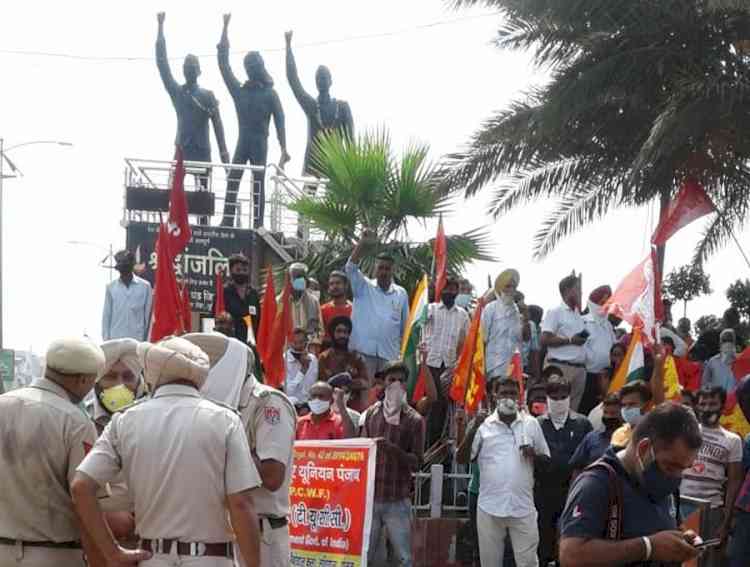 Ludhiana: The trade unions including INTUC, AITUC and CTU jointly took out a procession from the Jagraon Bridge to Bharat Nagar Chowk in support of the Punjab Bandh call given by the farmers against the recently passed agricultural related ordinances without any debate in the parliament. 

Leaders of the trade unions paid their homage to the martyrs Bhagat Singh, Rajguru and Sukhdev and pledged to carry forward their legacy by offering resistance to the injustice. Speakers addressing the rally said that the recently passed ordinances in the parliament without any debate will not only affect the farmers but also the consumers equally. The farmers will be left at the mercy of the corporate who will procure the produce from the farmers at the prices of their choice and then hoard these and later sell them high prices to the consumers who will be at the receiving end. Such type of corporate based contract farming has failed globally but this government is out to push it even after a similar experiment in Bihar has miserably failed. The income of the farmers in Bihar in the last 14 years has not increased. That the farmers will be able to sell their produce across the country is a joke with the small farmers who find it difficult to even reach the nearest mandi. 

They also strongly condemned the recently passed anti workers bills in the parliament without any debate. This will hit the workers hard. Already some states have taken steps to increase the working hours and take away the rights of the workers to unionise.  The government has miserably failed at all fronts and are now out to divide the society on communal lines. The democratic institutions have been completely marginalized. All those having different views are being dubbed as anti-national and are being put in jails on false charges. These are serious times for the country which require a broad secular democratic movement. 

Those who addressed the rally include Swaran Singh, Ramesh Rattan, Jagdish Chand, Sarabjit Singh Sarhali, Vijay Kumar, Paramjit Singh, Gurjit Singh Jagpal, Mahipal.