TOEFL iBT Approved for Canada's Student Direct Stream
Indian Students taking TOEFL can pursue expedited study permit from Canadian Institutions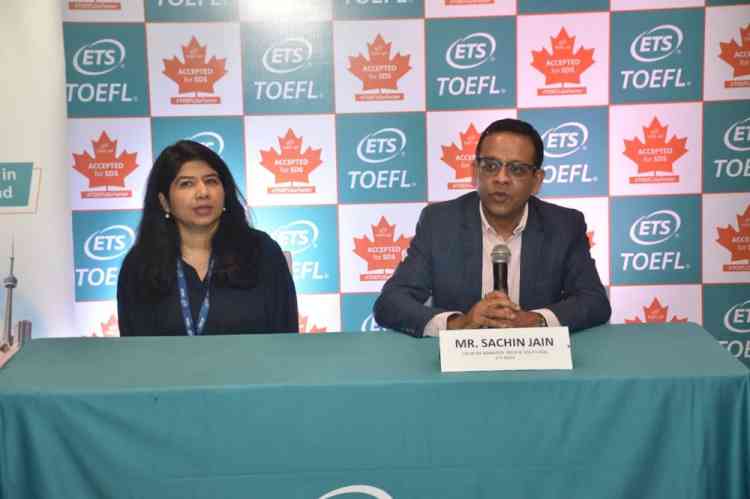 Sachin Jain, Country Manager, ETS India & South Asia (right side) addressing media in Ludhiana on TOEFL test and growing study abroad market.


TOEFL market ambassadors to support students with knowledge and guidance on studying in Canada and other countries
Ludhiana, June 7, 2023: At a press briefing today in the city, ETS announced that the TOEFL iBT test has been approved by Immigration, Refugees and Citizenship Canada (IRCC) for use in Canada's Student Direct Stream (SDS), an expedited study permit processing program for international students who plan to enroll in one of Canada's postsecondary designated learning institutions.

Speaking about this development, Sachin Jain, Country Manager, ETS India and South Asia said "the acceptance of TOEFL iBT for Canada's Student Direct Stream will immensely benefit students who take advantage of this route each year. The addition of TOEFL iBT also provides institutions in Canada with a wider choice of applicant base, making this a win-win for both test takers and institutions alike."
The expansion to include TOEFL iBT is a welcome change for test takers who now have the option to select which test works best for them. Previously, only one English-language testing option was authorized for the SDS route.

Students can begin sending TOEFL iBT scores as part of their SDS application beginning August 10, 2023. Given the TOEFL iBT test scores are valid for two years, students who have taken TOEFL iBT at a test center within 2 years from date of SDS application are not required to retake the test. According to the IRCC, as long as all eligibility requirements are met, most SDS applications are processed within 20 calendar days. To learn more about applying for SDS, including eligibility criteria, please visit the Government of Canada website.
The TOEFL iBT test is already accepted by 100% of Canadian universities and is also the world's most widely accepted English-language test, used by more than 12,000 institutions in more than 160 countries worldwide.
Today's announcement follows a recent announcement from ETS that it is enhancing the TOEFL iBT test beginning July 2023. The test will be the shortest among the three major English-language testing options currently available. In addition, test takers will experience a simplified registration process and increased score transparency. 
At the press conference today, ETS also shared information about setting up of a new test center in the city. This center will come up at Daffodils Study Abroad Consultants, Ludhiana. This addition of a test center will enable significant ease of access for test takers in the Ludhiana region. 
Additionally, ETS also shared information on the appointment of TOEFL market ambassadors in Ludhiana who will be responsible for providing knowledge and expertise to help prepare students for the future. These ambassadors will also be a guide and mentor for parents who have a dream for their children to study overseas. Presently, there are over 200 TOEFL ambassadors in the Ludhiana region, and this number is growing at a rapid pace showcasing the interest for TOEFL iBT as the most widely accepted English language test globally. 
For more information on TOEFL iBT, including how to register, access to practice materials and more, visit www.etsindia.org/country-toefl/canada/.