To commemorate World Tuberculosis Day, Department of Microbiology DMCH organized various activities
To commemorate World Tuberculosis (TB) Day, Department of Microbiology DMCH organized various activities for doctors, students and patients. This year's theme for the day is  'Yes! We can end TB!'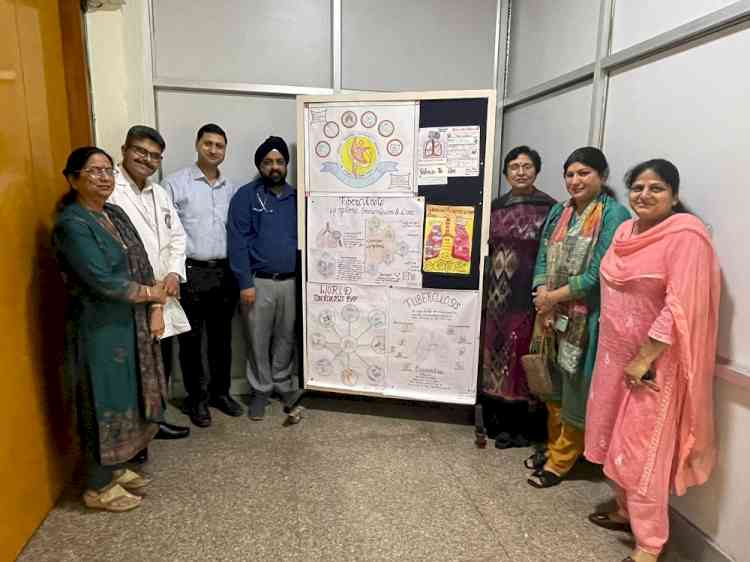 Ludhiana, March 23, 2023: To commemorate World Tuberculosis (TB) Day, Department of Microbiology DMCH organized various activities for doctors, students and patients. This year's theme for the day is  'Yes! We can end TB!'
To spread awareness on TB, its testing and treatment, paramedical students presented a skit for the patients and their attendant in OPD Block of DMCH. A poster making competition was also conducted for MBBS and paramedical students and winners were Pardeep and Gurleen. In addition, a training-cum- awareness session was conducted for the faculty and  post graduate students.
In his message, Secretary DMCH Managing Society, Prem Kumar Gupta said that the department of Microbiology at DMCH has state of the art diagnostic facilities and DMCH is always at the forefront of managing public health concerns.
Principal Dr Sandeep Puri, appreciated the efforts of Department of Microbiology for conducting these awareness sessions and told that TB most often affects lungs, but can also affect other organs, so it is advisable to the public not to ignore  any symptom like persistent cough, weight loss, fatigue,  blood in cough.
According to Dr Veenu Gupta Professor & Head, Department of Microbiology has facilities of CBNAAT, liquid and solid culture, smear microscopy, IGRA and Mantoux test for diagnosis of TB.
A central session on Management of Drug Sensitive TB and Diagnostic Modalities of TB under NTEP were also conducted for Faculty members and Resident doctors. The sessions were delivered by Dr Ashish Chawla, District TB Officer and by Dr Veenu Gupta, Professor and Head Department of Microbiology. The session was attended by more than 200 participants.