TN Chief Minister inaugurates KVB Walk n Jog
The work was completed at a cost of about Rs. 2.00 crores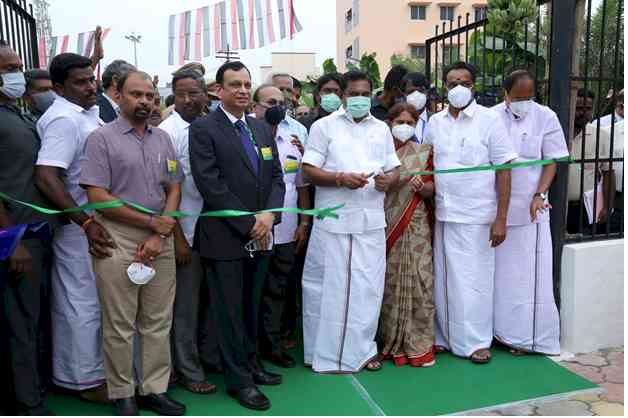 Chief Minister of Tamil Nadu, Thiru E K Palanisamy inaugurating Walk n Jog. To his right is Mr. Ramesh Babu, MD & CEO, Karur Vysya Bank. To his left, the Karur District Collector and the ministers of Transport and Electricity.
Karur:  Thiru Edappadi K Palanisamy, the Chief Minister of Tamil Nadu inaugurated the KVB Walk n Jog facility at Karur today. Karur Vysya Bank as part of its CSR initiatives had undertaken the work of converting the old Amaravati Bridge as a walker's path for the benefit of the people of Karur.  The work was completed at a cost of about Rs. 2.00 crores and named as Walk n Jog.
The bank has taken efforts to add aesthetics to the facility besides making it people friendly.  Pergolas have been erected and planter boxes with flowering plants have been placed on both sides and the middle of the bridge to add to the beauty to the bridge.  Paver blocks have been laid to enhance the walking experience.  A park with a fountain and kids play area has also been developed adjacent to the bridge.  As a first in Karur, a Miyawaki forest has also been established to provide green cover.  
For a town that is lacking in facilities for physical exercise and entertainment, the KVB Walk n Jog offers an excellent option.
Thiru M R Vijayabhaskar, the Hon'ble Transport Minister and Thiru Thangamani, the  of Electricity, Tmt. Malarvizhi, IAS, Karur District Collector, Mr. Ramesh Babu, MD & CEO, Karur Vysya Bank, members of the Board of the Bank and senior executives participated in function.