Tirupur with Annual Compound Growth of 22.87 per cent during last 37 years best example and will be duplicated across India
75 districts in India to be identified to promote textile exports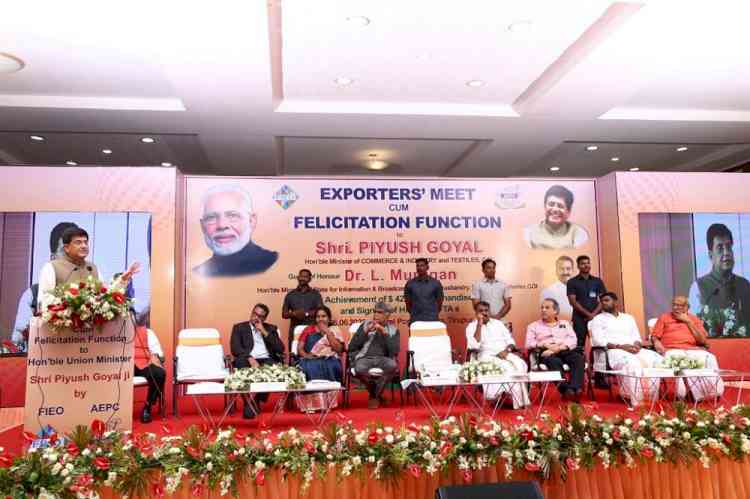 The Union Commerce and Industry Minister, Piyush Goyal addressing the function at Tirupur on June 26, 2022.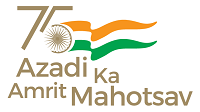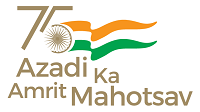 MSME contribute 95% of total 1200 exporting units in Tirupur known as "Dollar Town" contributed Rs. 33,000 Cr exports during the FY 2021-22. In order to setup an ambitious target of Rs.33,000 Cr export from Tirupur and in order to understand issues and suggestions from the exporters Piyush Goyal, Union Minister for Commerce and Industry & Textiles had an interactive meeting with FIEO & AEPC Members on 26th June, 2022 at Tirupur. The session was also participated by Dr L Murugan, Union Minister for State for Information and broadcasting; Dr A Sakthivel, President, FIEO, Sudhir Sekhri, Vice Chairman, AEPC; T V Chandrasekharan, Past Chairman, HEPC; Raja M Shanmugam, President, TEA; Geethanjali S Govindappan, Vice President, SIHMA; Akhil S Rathinasamy, President, KNITCMA and V Elangovan, MC Member, FIEO. More than 350 exporters apart from RMG sector from Tirupur, Engineering, Agri and Processed Food, Textiles, Yarn sectors from Coimbatore, Karur, Madurai, Erode, etc. participated in the program.
 
Dr A Sakthivel, President, FIEO in his welcome address appreciated the efforts of the Govt in addressing the issues of exporters quickly and opening up vistas of market opportunities, which helped the country in crossing export of USD 422 Billion during the last financial year. Dr Sakthivel appreciated the untiring efforts of Union Commerce and Industry Minister in concluding FTAs with UAE and Australia and opined that ongoing negotiation with UK, EU, GCC, etc. will throw open new opportunities for Indian exporters. FIEO President also requested Hon'ble Commerce and Industry Minster's attention on suggestions including linking issuance of RoSCTL and RoDTEP with export realization for better value, including left over sectors like Iron & Steel, Pharma, Chemicals etc. in RoDTEP, extending the benefits to EOU/SEZ units, AAA/DFA users, announcing revised TMA for Agri Sector, solution on money struck for export made to Sri Lanka, implementation of Rupee Payment System for export to Russia, Creation of MSME Market promotion fund, market access for emerging sectors in services, etc.
 
Sudhir Sekhri, Vice Chairman, AEPC in his address requested for announcement of new Technology Upgradation Fund Scheme (TUFS) scheme, announcing Production Linked Incentive Scheme (PLI-2) for the Apparel Sector and requested for export of cotton and cotton yarn should be suitably calibrated to ensure that cotton and cotton yarn is available to the exporting units at competitive prices.
  
Chandrasekharan, Past Chairman, HEPC requested for inclusion of Handloom sector in PLI-2 scheme and requested for setting up Powerloom Service Center in all handloom clusters across India
 
Dr L Murugan, Hon'ble Minister of State for I&B in his address highlighted various initiatives of Govt of India for welfare the country. He also highlighted the benefits of newly signed FTAs, which will help the country to grow in manifold. For reducing the logistics cost, revolutionary measures such as PM Gati Shakti, the National Master Plan, would help improve infrastructure planning and ensure the implementation of projects within time and budget. Setting up of Multi Modal Logistics Parks, focus on container manufacturing, East West and North South freight corridors are steps in the same directions.
 
Other industrial leaders addressed during the session raised issues of abnormal increase in raw material price, uncertain global environment, need for faster cross boarder movement of cargo for helping Indian exporters in joining Global Value Chain, non-availability of adequate and timely funding for MSMEs, etc.
 
Piyush Goyal, Minster for Commerce, Industries & Textiles in his address appreciated the efforts of exporters in Tirupur to have consistent growth. Tirupur is one example, which entire India should copy as a tiny cluster with Rs.15 Cr exports during 1985, Tirupur exported Rs. 30,000 Cr worth of goods during the year 2021-22 apart from Rs. 20,000 Cr domestic turnover. Today, Tirupur employs 6 lakh directly and 4 lakh indirectly. It has become hub for entrepreneurship and successful start-ups. Referring to the 200 Cr funding given by the Central Govt for common effluent treatment plant, Hon'ble Minister said that today Tirupur has become zero discharge, which has been appreciated globally. Tirupur with compound annual growth of 22.87% since last 37 years, has become the model not only for India, but also globally.
 
While calling Tirupur textile cluster as Pride of India, Piyush Goyal suggested that around 75 cluster of similar nature should be created in potential districts across India with the support from industries in Tirupur. While referring to potentials of India to become a developed country, Goyal said that with the GDP annual growth of 8 to 8.5%, India aims to become USD 30 Trillion economy. Appreciating the efforts of Tirupur exporters, Minister said that during beginning of Covid, India was importing PPE and now has become 2nd largest exporter of this product. While referring to the capacity to produce sanitary napkins in high volume, Minister said that Govt is targeting to supply these products through PM Jan Arogya Yojana so that the products can be available very cheap to reach all sectors of society.
 
While referring to the employment opportunities being created, Minister said that there is no scarcity of job for those who are willing to work. Today many of the units in Tirupur not able to work with full capacity due to shortage of workforce and Tirupur can absorb more than 50,000 workers immediately from anywhere in India. Textiles value chain itself can generate around eight lakhs new jobs within 5 years. Hon'ble Minister praised Dr A Sakthivel, President, FIEO for his vision, commitment and entrepreneurial capabilities for younger generations to follow.
 
Elangovan, MC Member, FIEO, while thanking the Minister for providing all supports to the industry to grow stated that with the proactive support from the Govt the textile and clothing industry will perform much better than the expected levels irrespective of all challenges.