Tiranga Dhokla Recipe
Cook and Taste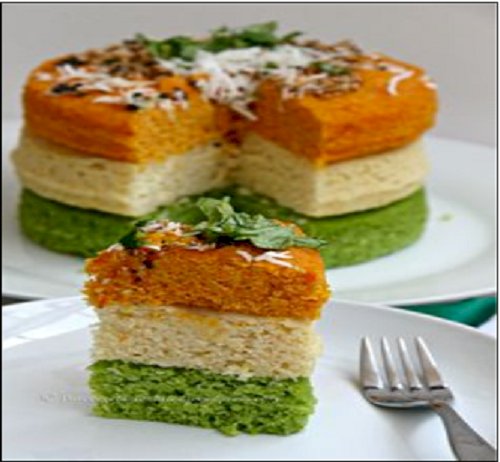 A photograph of Tricolor Dhokla.


by Chef Jaybir Negi, Pastry Chef, The Deltin, Daman
Ingredients:
4 cups Idli batter
1 cup Palak puree
1 tsp ginger paste
2-3 green chillies paste
1 tbsp Gun powder (Idli molagai podi)
1/2 tsp Everest Kashmirilal Chilli Powder
1 Green chilly and 1 small piece ginger paste
2 tsp cooking oil
For garnishing you will require:
4 tbsp Grated coconut
Freshly chopped Coriander leaves
For seasoning you will require:
1 tsp Mustard seeds
Few curry leaves (broken in bits)
1 tsp Oil
How To Make Tiranga Dhokla:
1.       First of all pour the batter in a big bowl, add some salt and divide it in 3 equal parts.
2.       For making orange batter, mix one portion of batter, gun powder and chilli powder.
3.       For making white batter, keep one portion of the plain batter aside in separate bowl.
4.       For making green batter, mix the remaining third portion of batter, palak puree, ginger paste, green chilli paste and a pinch of salt.
5.       Now mix all the ingredients mentioned for a green layer.
6.       Keep good amount of water in a big vessel on high heat.
7.       Grease any flat steel plate and transfer the prepared green batter to a greased plate and steam it over the vessel of water.
8.       When it is done, pour one cup batter for white layer and steam.
9.       Later, add the third and orange layer on top of it and steam.
10.   Dhokla will be done after about 15 minutes, remove and allow to cool.
11.   Cut it into desired shapes and arrange in a plate, in such a way that they should look like Tiranga Dhokla.
12.   Heat the oil in a small saucepan and make the tempering of seasoning ingredients.
13.   Pour the seasoning over Tiranga dhokla and garnish with grated coconut and chopped coriander.
14.   Serve with green chutney and sweet chutney.
Tiranga Rabdi Mousse
Ingredients
2 Cups milk Full fat reduced to 3/4 cups
1 cup heavy whipping cream,
1 tsp Gelatin OR 2 tsps Agar Agar powder or 3 tbsps flakes
2 tbsps Cold water
1 tbsp sugar (optional)
2 tbsps pistachios ground
1 tsp saffron strands
Pinch saffron of edible food color
Few pistachios Sliced for garnish
Few strands saffron for garnish
Instructions
Ø  Boil the milk for the Rabri or condensed milk in low flame, stirring occasionally in between till it is reduced to little less than half a cup. Chill in the fridge and your Rabri is ready.
Ø  Add the hot water to the gelatin or agar agar and dissolve properly and keep aside. You might have to dissolve the agar agar again on a double boiler as it has a tendency to set fast. So it's better to dissolve it with hot water just right before adding it to the cream, making sure it's lukewarm or normal temperature and not hot.
Ø  Whip the chilled heavy whipping cream with a hand mixer for nearly 3 minutes in high speed till it is stiff and standing in peaks.
Ø  Add the dissolved gelatin or Agar agar and the chilled Rabri and mix gently with a spatula making sure not to deflate the air in the cream.
Ø  Divide equally into 3 portions.
Ø  To one portion add the green color and the powdered pistachios and to the other add saffron color and saffron strands and keep the third portion as it is.
Ø  Put the mousse mix in piping bags for easy layering.
Ø  Take shot glasses or transparent dessert bowls or wine and champagne glasses and pipe them in green, white and saffron layers equally.
Ø  Chill the mousse for 3-4 hours.
Ø  Garnish with piped cream, sliced pistachios and saffron and serve.
Notes:
Ø  Canned unsweetened condensed milk can be used instead of Rabri or if using sweet then the whipping cream has to be unsweetened to balance the sugar or else the mousse will turn out to be very sweet. Homemade Rabri without added sugar is the perfect option.
Ø  While making Rabri make sure it's stirred quite a bit so that it doesn't turn out grainy who affects the texture of the mousse.
Ø  The vessel and the mixer blades have to be chilled half an hour before the cream is beaten so that stiff peaks are formed easily. The cream, the vessel and the blades have to be chilled before beating.
Ø  Add the sugar mentioned only if you like more sugar in the mousse otherwise the sweetened whipping cream imparts the right amount of sweetness in the dessert.
Ø  Check out my friends' Independence Day special.