Tips related to cosmetic and retail industry shared
These webinars were attended by more than 65 participants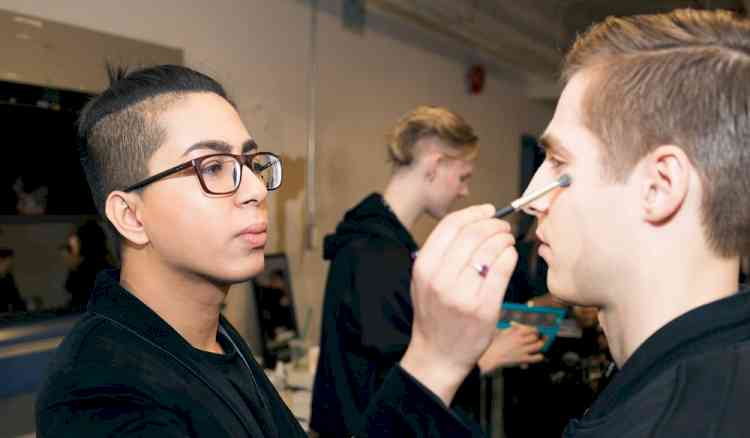 Chandigarh: An international Make-Up artist, Mandy Singh from Canada delivered a talk in a Webinar titled – Changing Dynamics of Make-Up Industry organised by Dr Prabhdip Brar,  Chairperson,University Institute of Fashion Technology & Vocational Development (UIFT&VD), Panjab University, Chandigarh .

Dr. Brar gave a welcome address and introduced  the speaker, Mandy, a graduate in Fashion and Fine Art, with artistic abilities to do stunning makeovers, working with the world's renowned brand M.A.C cosmetic to Fashion magazines like Harper Bazaar and Toronto Men's Fashion week with over 7 years of experience in the makeup industry. He is well versed with his knowledge and current makeup techniques.

The talk spanned about the huge potential where the last 5 years have seen a 60% growth in this lucrative make up industry. Cosmetic industry encompasses haircare, skincare, hygiene and retail along with make-up.  The wedding business in India is 40-50 billion dollars industry just second to that of USA. Mandy suggested that Artistry required creative freedom. To be successful in this business you need to know what you are good at and should gain experience before venturing into the business. The right proportion of patience, personal connections, research and consistency are the essential requirements. Free lancing, YouTube blogging and social media influencers would help in spreading a good word of mouth about your good work.

Another Webinar titled – Online Trend of Shopping and Retail was conducted by Mr. Saurav Negi, founder of MIAMINX, a style destination for the trendiest and most affordable clothing online for latest in casual and fashion wear. The speaker pointed that providing solutions to the customer makes a brand win half the battle. It is the need of the hour for fashion and lifestyle brands to stay most relevant to the customers by conducting research and fill the gap in the market by focussing equally on quality and design. Need for Increased Visibility of the Right Product with Right kind of Marketing is the way forward. Brands can use either organic or sponsored platforms for marketing, tap the consumer base of influencers and bloggers but a brand can only thrive by reinventing themselves. The New Normal has its own set of challenges for entrepreneurship and brands are now focussing on Work from Home Collections. Also, the future of online shopping depends on Data Analytics and Artificial Intelligence as brands work to provide customized and personalised experience by recognising the digital footprint left behind by internet users. The fashion students were advised to pursue entrepreneurial ventures in Ethnic wear as this segment has been continuously seeing growth than western wear.

These webinars were attended by more than 65 participants including faculty, research scholars and final year students of B.Sc. and M.Sc. in Fashion and Lifestyle Technology.