Thrust on jan shakti abhiyan in NSS camp
Slogan writing competitions on the themes save water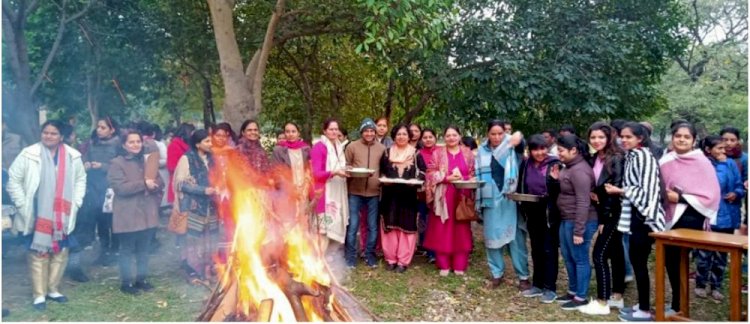 Chandigarh: On the third day of seven days special NSS camp at Government Home Science College, Chandigarh, volunteers actively participated in the Poster making and Slogan writing competitions on the themes' Save water' with an aim to sensitize the masses about urgent need to save water for future generations. The competition further aimed to focus on five aspects of Jal Shakti Abhiyan i.e. Water Conservation and Rain Water harvesting, renovation of traditional and other water bodies, reuse of water and recharging of structures, water shed development and intensive afforestation.
During the second half of the day, NSS enthusiasts were oriented about the aims and objectives of National Service Scheme as an important extension dimension to the higher education system for community service. Mr. Raj Kumar, Regional Youth Officer, NSS was invited as the Guest Speaker for the session. Volunteers were reminded of the motto of NSS 'Not MeBut You' and advised them to work for the community selflessly. He further motivated the volunteers to be active members of various National programmes by developing in themselves a sense of social and civic responsibility.
In the concluding part of the day, volunteers enthusiastically participated in Lohri celebrations in the college. Faculty members, non-teaching staff and other employees were the part of the celebrations. Audience was enthralled with the participation of the Students who danced with   full zeal and enjoyed the festival.
Principal of the college, Prof. Sudha Katyal, appreciated the efforts of the students for beautifully showcasing their ideas during poster making and slogan writing competitions so as to sensitize the society towards the nation-wide campaign of 'Jal Shakti Abhiyan'. She advised the volunteers to identify the needs and problems of the community and involve themselves in problem solving process and contribute their bit in making this place and nation a wonderful place to live in,not only for themselves but for their future generations. She further gave her best wishes on the occasion of Lohri to one and all.