Thousands of Delhi residents demand clean air solutions in upcoming state elections
New Delhi among most polluted cities in world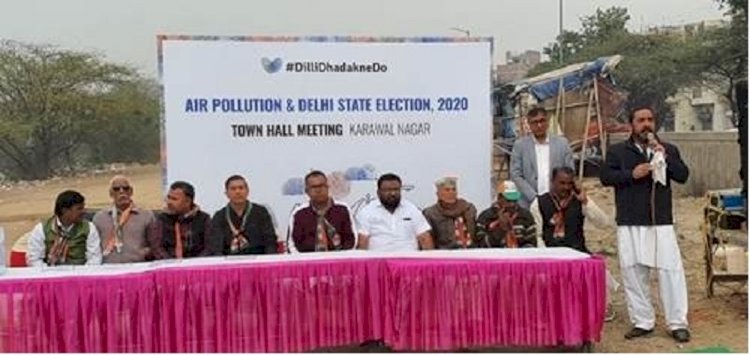 New Delhi: Thousands gathered at town hall meetings across New Delhi to demand clean air from their representatives. New Delhi, India's capital city is among the most polluted cities in the world. With 80 people dying every day due to pollution from particulate matter, Delhi's air pollution is a public health emergency. In the last two years, the air pollution debate has moved from being a seasonal issue to an issue of concern for the general public, led by young people, activists and medical professionals. For the first time, political leaders and candidates are talking about air pollution in the context of elections. The #DilliDhadakneDo campaign, led by My Right to Breathe, is a citizens movement that empowers voters to hold their representatives accountable for air pollution solutions. This is the first time that citizens are organizing themselves to ask political parties to take the issue of air pollution seriously. The campaign has started with a series of town halls in 15 different constituencies across the city, beginning with a flagship townhall at Karawal Nagar on January 27th.
The three town hall meetings on the 27th were held at Karawal Nagar, Delhi Cantonment, and R.K. Puram, and attended by the representatives of various political parties such as Aam Aadmi Party (AAP), Bharatiya Janata Party (BJP) and Indian National Congress (INC). All the political leaders present during the town hall meeting have promised to work together to resolve the ongoing crisis of air pollution. The townhall was followed by a march and a rally with 300 electric rickshaws and citizens of Delhi to Namaskar Pyar. 
Along with the town halls, the citizen-led campaign will be running various projects to garner support for clean air. The campaign aims to mobilize 2 lakh people from 20 assembly constituencies in support of clean air, to push political parties to move beyond manifesto promises. The citizens of Delhi expect nothing less than complete commitment from parties on the issues of environment.
"#DilliDhadakneDo is about giving citizens a voice, and holding their candidates responsible for working towards clean air. When citizens vote for clean air, the government has to listen. We have chosen electric rickshaws for this rally because they represent clean transport, green jobs and a lifeline of Delhi transit" - Bhavreen Kandhari of MRTB
Mr. Vighnesh Jha, Secretary General of the Federation of Rickshaw Puller Association (FoRPA) spoke at the town hall meeting at Karawal Nagar: "We are most exposed to deadly air pollution 24 hours a day, and yet the government does not take us seriously. The e-rickshaw plays an instrumental role in Delhi's public transport, as a last-mile solution. We urge political parties to consider our demands, and promote electric e-rickshaws, their charging infrastructure, and public transport in general. On behalf of FoRPA, I urge our members to vote for those who will work to improve the air quality in the city."
Mrs. Rekha Jhingan, Director, Sahaj Sambhav from Delhi Cantonment said, "Women, especially young mothers like myself, face many problems with air pollution. Studies have shown that children are at the greatest risk of developing long-term illnesses, and over a lakh children died in 2018 due to air pollution. As the children in my neighbourhood get sick and miss school, we have decided not to sit quietly any more. We young mothers demand that political parties take some concrete measures to safeguard the health of younger generations."
Citizens groups in Delhi are running various public campaigns to seek the commitment of political parties towards air pollution. Citizen groups in Delhi are organizing 15 town hall meetings at Karawal Nagar, Delhi Cantonment, R.K. Puram, Mangolpuri, Rithala, Dwarka, Badarpur, Vikaspuri, Patpadganj, Kirari, Laxmi Nagar, Nangloi, Rohini, Ghonda and Kalkaji in the next few weeks before the Delhi elections on February 8th, 2020. (Jan27)