THIS IS JUST THE DELAY AND NOT THE END OF THE AMBITION 
SAYS INTERNATIONAL EXPERTS ON PRESENT CRISIS DURING INTERACTIVE WEBINAR SESSIONS AT AMITY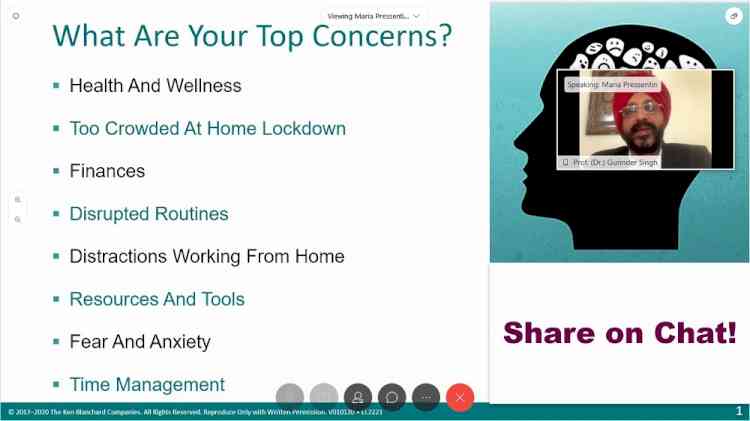 In continuation of interactive webinar series which are being held regularly by Amity International Business School and Amity Greater Noida Campus, wherein Industry Experts and world-renowned Academicians assemble online to share their knowledge and experiences in different contemporary topics. Today Ms. Maria Pressentin, Head, Learning & Organizational Development, The Ken Blanchard Company, Singapore and Prof. Kelly Smith, Dean International, Murdoch University, Australia shared their knowledge with the attendees.
The sessions were started with the address of Prof. (Dr) Gurinder Singh, Group Vice-Chancellor, Amity Education group. Dr. Singh while speaking on this occasion informed this International Webinar Series has been started to get the viewpoints of the global leaders. He further spoke about the leadership styles, innovative ideas, self-inspiration which is required to meet the challenges of life.
 
Ms. Maria Pressentin talked about general concerns in the present environment which is the same worldwide which includes Health & Wellness, Home lockdown, Finances, Disrupted routines, Distractions in Working from Home, and many more. She suggested being proactive in these times by activating points of power one possess and accepting challenges with constraints. She said that one can create the best of times by proactively getting the direction and support one needs. She added that a leader is one who can give you the direction and support you need.
Prof. Kelly Smith in his address briefed about the Impact of Covid-19- in Australian Perspective. Prof. Kelly said that the Australian government is looking after the international students and have a support package for these students during the lockdown. He added that the impact of the present crisis will be felt for 10 years in the education sector to reach the present position. Prof. Smith said that since borders are closed neither we can get international students not can we send our students to other countries. Also, it will have a great impact on research capabilities as All non-essential labs are closed except related to COVID research.
He said, once the border is open, we will be ready to take and teach new students. Prof. Smith ends his lecture by saying that "This is just the delay and not the end of the ambition".
The webinar concluded with an interactive session where all the queries were addressed in multiple dimensions. The Webinar was attended by hundreds of vice presidents, Dean, faculties, and students of Amity University.