There is no covid-19 case in Tibetan community living in India as of today: Secretary Health Tibetan government
Tibetan Community, during the lock down in India: ready for a long fight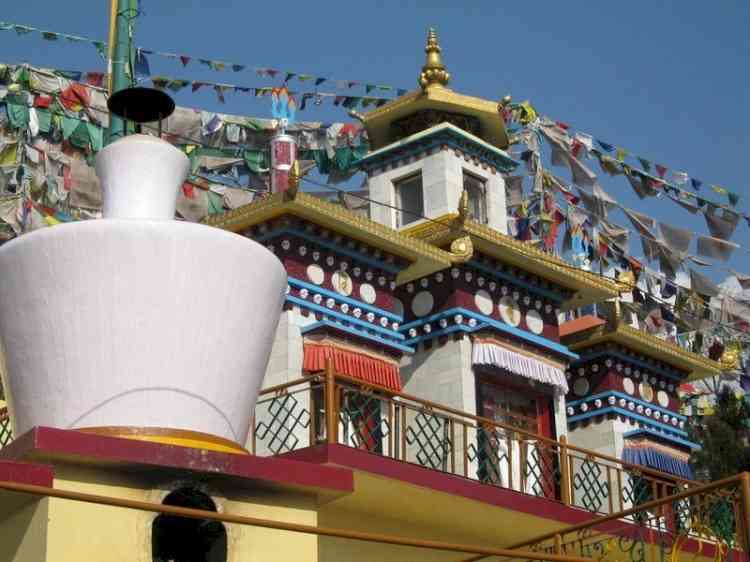 A view of McLeodGanj Tsuglagkhang Temple.
Dharamshala: "I am happy to inform you that there is no COVID 19 case in Tibetan community living in India as of today. Health Depart is working for preventive measure since from 24th January 2020," said Palden Dhondup, secretary, Ministry of Health, Tibetan government in Exile in India. He was answering to the queries by this correspondent about this pandemic in Dharamshala on Monday. Dharamshala, a hill station of North India, is the head quarter of Tibetan government in exile.  
Much ahead of the Corona spread in India, on 28th January Tibetan spiritual leader, the Dalai Lama, advised his followers to chant the 'Tara Mantra' as it would be "beneficial for effectively containing the spread of the virus or to contain the threat posed by corona virus. He asked the people suffering from the disease to chant the matra, "Om tare tuttare ture Soha", to maintain the peace of mind and remain free from worries.
The Central Tibetan Administration (CTA) said that all Tibetans staying in India are safe and uninfected from COVID-19 so far, except one death of a Tibetan in Dharamshala, who too arrived from abroad.
The Tibetan community in India numbering approximately 1.40 Lakh are all safe at the moment as informed by Ms Tsewang Dolma Secretary Home, CTA in Dharamshala. She said, "We have 36 settlements in India in the states of Himachal Pradesh, Uttarakhand and many southerly states of India and have 41 old age homes. Everywhere all are maintaining the rules and regulations. "We are providing our herbal medicine especially to Tibetans, who are 65 years plus, to safe guard them of the fear of Corona."
Dolma said that all the Tibetan government offices in its head quarter Dharamshala, have been closed since the third week of March and everyone is abiding by the work-from-home regime. "We are prepared for a longer fight against Corona", she said.
On 23rd March a 69-year-old Tibetan Tenzin Choden, who arrived in Dharamshala on 22ndMarch from USA, whose preliminary tests showed he had coronavirus died at the Tanda Medical College.  District authorities thus sealed the McLeodganj the upper Dharamshala (the headquarters of Tibetan in exile).  Dharamshala administration alerted Tibet's government in exile at Dharamshala, and asked it to quarantine and test all those in touch with Choden for the contagion. This development makes Choden, Himachal's first coronavirus death. After this incident CTA President Dr. Sangay immediately convened a meeting with the Ministers of Health, Home and Security and sent three members of the family the deceased i.e. son, wife and mother for quarantine at the Tibetan Reception Centre at Khanyara, later all were found negative to Corona.
McLeodganj is under curfew since 23rd March and everything is going on normal there. Onkaar Nehria, vice president of Dharamshala Municipal Corporation and councillor of McLeodganj area said, "Tibetan Community is appreciably maintaining proper discipline and stringently abiding by the rules fixed by administration for curfew. Majority of them either run home stays and shops or are road side hawkers in the area. When asked about present situation, they showed their desire to get rid of this virus and will follow the government of India for this fight."
Tsewang Gyalpo Arya, Secretary Dept. of Information & International Relations (DIIR), CTA said that Coronavirus which originated from Wuhan city of China was very unfortunate. It has taken many lives in China and abroad, and has created chaos and sufferings around the world.  McLeodganj has been under lockdown since March. It has been done to ensure the safety of the residents and to contain the spread of virus. Tibetan Administration is happy with the steps taken by the local authorities in tackling the situation, and it has been giving full cooperation to the local authorities.
Tibetan Administration has given a series of messages to the Tibetans in and outside Tibet on the preventative measure that needs to be taken to contain the coronavirus pandemic. It has advised all the Tibetan settlements and offices to observe the guidelines issued by the local authorities and cooperate and work closely with the local bodies in alleviating this contagious disease.
Lobsang a shopkeeper said, "we have spent most of our life span in India, so we are basically Indians. We have pledged to go with the decisions of PM Modi. This virus will not stay longer in this country." While Tenzin, a tourist guide said,"God has given us a short interval to get in  touch with our community. This period will vanish soon."
Dalai Lama said earlier, "Today, we are passing through an exceptionally difficult time due to the outbreak of the coronavirus pandemic. In addition to this, further problems confront humanity such as extreme climate change. I would like to take this opportunity to express my admiration and gratitude to governments across the world, including the Government of India, for the steps they are taking to meet these challenges. Faced with threats to our health and well-being, it is natural to feel anxiety and fear. Nevertheless, I take great solace in the following wise advice to examine the problems before us: 'If there is something to be done—do it, without any need to worry; if there's nothing to be done, worrying about it further will not help.'"
The President of CTA, Dr. Lobsang Sangay informed that the prescriptions of rilbus (Tibetan medicinal pills) by former personal physician to His Holiness the Dalai Lama, Dr. Tamding Tsewang are being distributed in the Tibetan communities. The supplements help recover fatigue, sleep deprivation and build immunity.
President then issued a special notice for the overseas Tibetans in India to immediately get tested in case any symptoms occur. In addition to that, concerns regarding visa expiration of those of overseas Tibetans must be contacted to local settlement officer and representative officer.
He advised the students to make constructive use of the lockdown period in their studies. "Amidst the Wuhan-originated COVID-19 pandemic, lockdown has been imposed all across India which has affected normal functioning of life. Schools are also closed during this time in accordance with the law, leaving students at risk of losing their valuable learning time as a result", said Sangay. He added that realising this some educators in our community have begun providing online classes for students to keep them on track.
In the meantime, the Tibetan parliament has allocated a total of 30 lakh (8 lakh plus 22 lakh) for coronavirus-related spending and has constituted a coronavirus task force to provide support and response to Tibetan communities in tackling COVID-19.The task force is presided by  Choekyong Wangchuk,  Health Minister  and two former personal physicians of His Holiness the Dalai Lama, Dr. Tseten and Dr. Tamding apart from several other health professionals.
The CTA issued guidelines, calling on Tibetan monasteries, schools and elder care homes in India, Nepal and Bhutan to cancel public gatherings for one month. The guidelines also call on all boarding and day schools to be closed for a minimum of one month; Elderly care homes to restrict all outside visitors except for the staffs and nurses; All the staff members of the CTA, both at the centre as well as at the regional level, to postpone all official visits and to refrain from holding any meetings, training programs and workshops for one month among others.
The CTA staff have pledged to donate their one-day-salary to PM Modi's Covid-19 Relief Fund. Administration has also urged the Tibetan Associations and NGOs to contribute in this Covid-19 relief work in their respective regions. On 4th April, Tibetan Administration appreciated the work done by the DC and SDM office, and donated Rs.3 Lakh to the Covid-19 Relief fund.