The Refereed Research Journal 'Panjab Journal of Sikh Studies' released
The next issue of the journal is getting published on Guru Tegh Bahadur Sahib commemorating the 400th Parkash Utsav of Guru Ji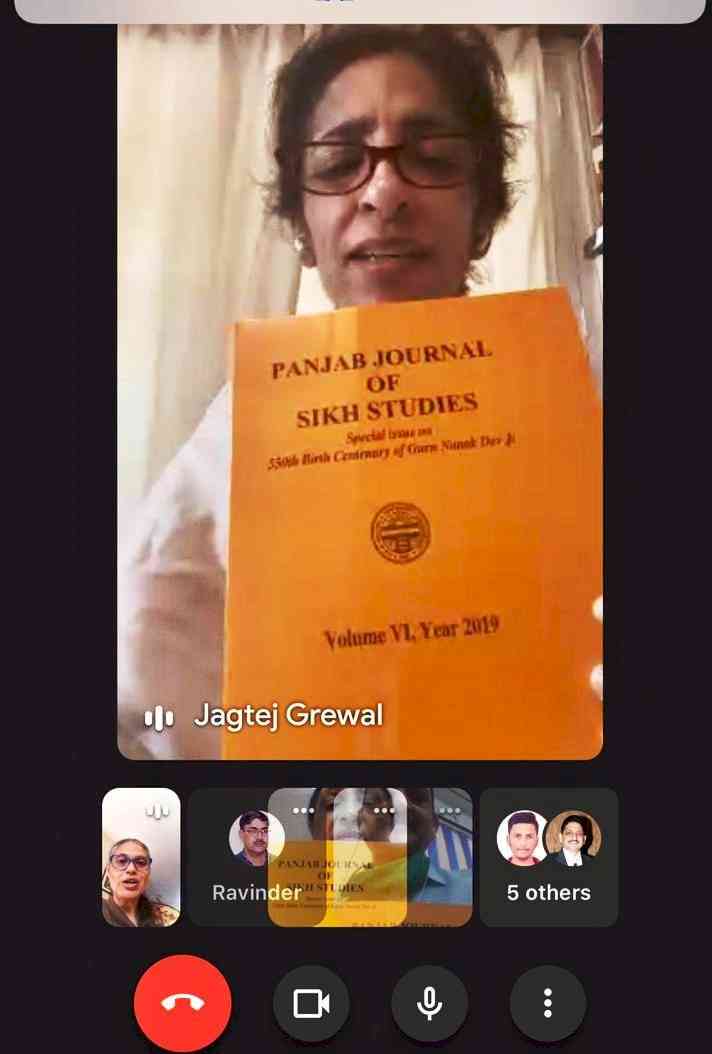 Chandigarh: Today, The Refereed Research Journal 'Panjab Journal of Sikh Studies' of Department of Guru Nanak Sikh Studies Volume VI 2019 was released. 

The journal was released by Professor R.K Singla D.U.I Panjab University Chandigarh and Professor V.R. Sinha Dean Research of Panjab University, with Chief Editor Professor Jaspal Kaur Kaang including the team of Editors Professor Reeta Grewal, Professor Sheena Pall, Professor Gurpreet Kaur, Dr. Jagtej Kaur Grewal and Shri Jatinder Moudgil Press Manager of Panjab University. The Journal is a Special issue on Guru Nanak Dev Ji's 550th Birth anniversary which includes research articles of eminent scholars as Prof. Paramvir Singh, Prof. Sukhdial Singh, Prof. Gurmeet Singh Sidhu, Prof. Ronki Ram, Prof. Mohd. Habib, Prof. Sukhdev Singh, Prof. Sarbjit Singh, Dr. Akvinder Tanvi, Prof. Balwinder Kaur Bhatti, Dr.  Paramjit Verma, Dr. Ashok Kumar Khurana, Dr. Ramanpreet Kaur, Dr. Paramjit Kaur Journal also includes three reviews of new published books. It will be available in Department of Guru Nanak Sikh Studies and also Publication Bureau Panjab University Chandigarh.

The impressive title quality printing of the journal is given by Shri Jatinder Moudgil, Press Manager of Panjab University. Prof. Jaspal Kaur Kaang Chief Editor and Academic Incharge of Department stated that 1st volume was published in 2011 and now it is being published every year. While releasing the journal, DUI Prof. R.K Singla congratulated  Professor Jaspal Kaur Kaang the Chief Editor and to the whole editorial team for the commendable publication which is bilingual and interdisciplinary in its nature and covers issues related to particularly of Panjab & Sikh Studies.  She also stated that the next issue of the journal is getting published on Guru Tegh Bahadur Sahib commemorating the 400th Parkash utsav of Guru Ji.