The more my fans hate my character, the happier I am: Nimishka Vakharia
"The more my fans hate my character, the happier I am" says Nimishka Vakharia who plays Kavita in Sony SAB's Shubh Labh - Aapkey Ghar Mein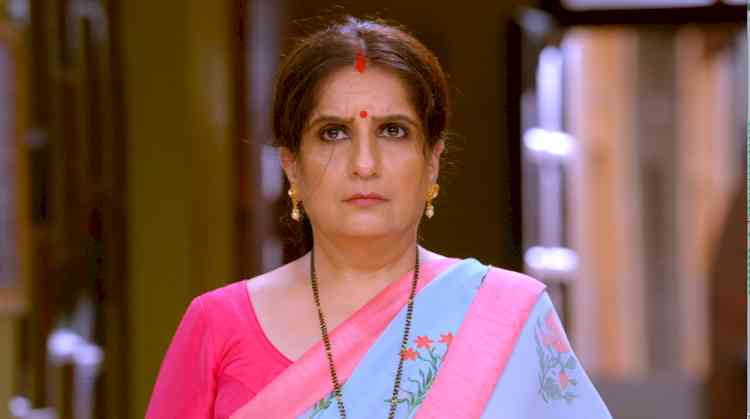 Nimisha as Kavita in Sony SAB's Shubh Laabh- Aapkey Ghar Mein.


•    What prompted you to associate with such a concept?
•    When I first heard the concept, I thought it was something different that Sony SAB is doing. We don't usually hear about shows that delve on mythology and on the concept of devotion in today's times. The idea of Goddess Laxmi helping Savita herself and guiding her through the challenges in life was new and interesting. I am really happy to be a part of this show and would urge the audience to keep supporting us.
•    How difficult is it to play a negative character on screen?
•    Playing a negative character has been my forte. So, when I got another opportunity to play a negative character in this show, I jumped onto it. I think a drama cannot be without a negative character. Negative and positive characters complement each other. For instance, it's the existence of Ravana that also amplifies  the praise and glory of Lord Ram. So, negative shades to a plot or storyline is of integral importance. Hence, I thoroughly enjoy reposing my character.
•    How is it like working with Geetanjali, Chhavvi and Shreya?
•    It's fun working with her (Geetanjali). We have nicknames for Kavita-Savita that we keep calling each other throughout our shoots. We share a close bond with each other. We laugh, share secrets and enjoy each other's company. Chhavvi is a fun loving person and the three of us always have a gala time.To me,  Shreya is just like my kid as she is the same age as my daughter.
•    Do you feel negative characters have an overbearing impact on actors at times?
•    I don't think the role or the character affects an actor in real life. It's very important for an actor to know how to create a balance for themselves. I always live the characters I play but am mindful about only living them on camera and not letting them affect me in real life. I believe that just like women know how to balance personal life and work, actors should also know how to balance life on screen and off it.
•    How has your journey been in the show so far? Any highpoints you remember?
•    It's been a rewarding journey. The team is great. We are like family, we laugh, we play, and tease each other. I love playing my character. My character's self-centeredness amazes me. Sometimes, she tries to be nice, while on the other end, she tries to break families apart. But at the core of everything she does lies the idea of 'self'. She can do anything and everything for herself. For her, she comes first which makes her an interesting character to portray.
•    Any message for your fans?
•    Since I am playing a negative role, I believe the more people hate me, the better I am at playing my part. So, the more my fans hate my character, the happier I feel as an actor.