The Malai Sustainable Collection of Accessories and Apparel made a lasting impression at Lakmé Fashion Week 2020 Digital First Season Fluid Edition
Paying homage to the environment and natural resources of the country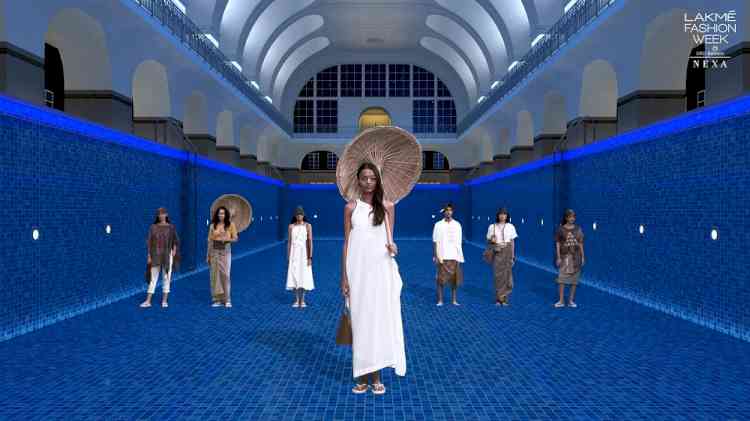 Mumbai: Circular Design Challenge presented the winning "Malai" collection in collaboration with Reliance Industries Ltd.'s R|Elan Fashion for Earth, Lakmé Fashion Week and United Nations Environment programme at Lakmé Fashion Week 2020 Digital First Season Fluid Edition. "Malai", the accessories and apparel collection, made a stunning impression among sustainable fashion enthusiasts.
 
When Susmith Chempodil and Zuzana Gombosova of "Malai" won the 2nd Circular Design Challenge at Lakmé Fashion Week Summer/Resort 2020, their collection inspired by the life cycle and ecology of the coconut palm was truly a unique concept.
 
The label's solo collection at Lakmé Fashion Week 2020 Digital First Season Fluid Edition was a grand expo of how bio-composite material, based on Bacterial Cellulose grown on water from mature coconuts and natural fibres, could be an alternative to leather for fashionable accessories and garments.
 
Whilst, commenting on "Malai" Mr Vipul Shah, COO – Petrochemicals Business, Reliance Industries Ltd. said "We are pleased to see the natural material like coconut water can be transformed into a vegan alternative to leather. The collection and concept stand true to our aim to bring out budding entrepreneurial talent from the entire textile value chain. RIL is committed in driving sustainability and circularity in downstream industries including textiles and apparels."
 
Mr Atul Bagai, Head of UNEP Country Office India, said, "Transition to sustainable and circular textiles will require systemic thinking and changes at each stage in the value chain along with adoption of new business models. To advance circularity in textile value chain requires collaboration, financing and change in consumption habits and Circular Design Challenge is supporting this transformation of the Indian Fashion ecosystem by covering all three. This year's winner 'Malai' is a truly ingenious solution using bio-based materials to produce fashion accessory and clothing – it offers a holistic solution to minimise the environmental impacts during the production stage, offer a more sustainable purchase option to consumers and therefore will drive the sustainable market transformation" 
 
The core of "Malai's" collection was coconut circularity and sustainability. The accessories were designed from malai biocomposite and supporting materials like waxed canvas. The very practical collection of wallets, pouches, belts, suspenders, handbags, backpacks, headgear, clutches, laptop bags, bracelets and belt bags were teamed with stylish, loose, unisex jackets, practical pants, shorts, T-shirts and mundus.
 
Detailing for the accessories was intense and revolved around handcrafted straps and handles, while the clean simple bag shapes had shells made from malai and inners in waxed canvas. Braiding further added to the design elements of the items, along with the use of blueprints as well as lacing that helped to raise the design quotient.
 
For the garments, it was the sustainable path once again, as cyanotype printing with coconut leaves and plants from South India were the print template, while natural dyes and waxed canvas gave the Mundu fabrics a waterproof design texture. The addition of fabrics like organic cotton, banana jersey, hemp canvas and second-hand Mundu fabrics from South India gave the collection its natural character.
 
The range revolved around the relaxed resort or holiday wear, with the Mundus worn as sarongs, lungis or just wrap skirts in vibrant shades of indigo with prints and stripes. Beach robes, wrap trousers, white peplum blouses, lungi style skirts, floppy kaftan tunics, bias-cut flared midis and comfy shirts completed the fashion statement from "Malai".
 
The colourful accessories were totally summer worthy with woven visors, caps, pouches, backpacks, totes, duffels, fanny belts, shopping bags and clutches in a variety of fabrics and fibres that proved ideal additions.
 
Paying homage to the environment and natural resources of the country, the "Malai" collection by Susmith Chempodil and Zuzana Gombosova will be a unique addition in wardrobes for the coming season.