`The Happiness design: Building conscious organizations and joyful being' program launched at Amity
The program is being attended by faculty members, corporate professionals, research scholars and students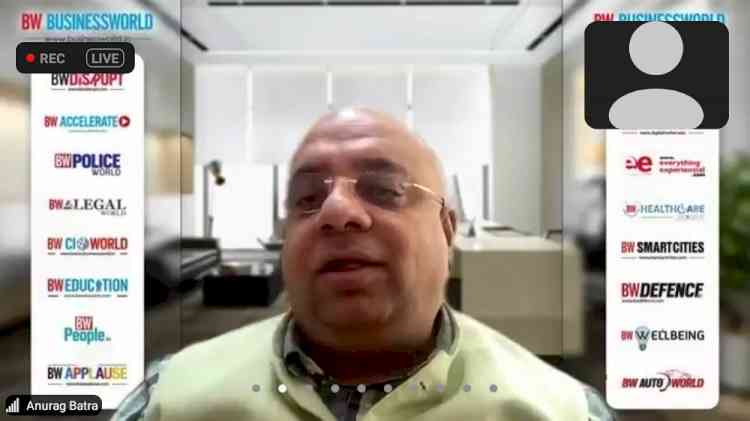 Dr. Annurag Batra, Chairman & Editor-in-Chief, Business World addressing the gathering at Amity.


Amity International Business School along with Rekhi Centre of Excellence for the Science of Happiness in association with Rajya Anand Sansthan, Govt. of M.P., India (India's First Ministry of Happiness) organized a  five days faculty development programme on the theme "The Happiness Design: Building conscious organizations and joyful being". The FDP  aimed  to  provide  the  participants  with  an  experiential  understanding  of the design thinking Principles in the context of designing one's own Happiness. The experiential inputs  of  the  Happiness  Gurus  would enlighten and provide an  insight into finding happiness within. The program is being attended by faculty members, corporate professionals, research scholars and students.
Talking about the initiative, Mr. Akhilesh Argal, CEO, Rajya Anand Sansthan, MP (India's First Ministry of Happiness, Govt. of MP, India) said that the Madhya Pradesh government has taken this initiative of Rajya Anand Sansthan to make people aware of the importance of being happy. According to the World Happiness Report, India is ranked 139 in the world. There is no relationship between happiness and materialistic happiness, happiness is part of the inner part of our mind. Being happy is very important for success in life. Happiness also plays an important role in governance, which increases the capacity of the individual, accelerates productivity. A happy workforce is always more creative, problem-solving as well as collaborative, punctual, skilled in group work (whether leading or group members). We have to understand the difference between prosperity and wealth. Stable happiness is essential for a quality life. Such programs will create a chain of happiness and more and more people will be benefitted.  
Sharing his thoughts, Dr. Satinder Singh Rekhi, Founder, R-Systems stated one powerful feeling can change your life. Life is a never-ending history. Dr. Rekhi said that there are two parts of life, either life is dull in which you are not happy and you are very busy and in another part, life is a never-ending happy journey.  
Dr. Anurag Batra, Chairman & Editor-in-Chief Business World said Happiness is the space between your thoughts and your actions. Happiness is doing one's best, getting good sleep, seeing loved ones, reading favorite books and listening to music. To be happy in life, two things are necessary, firstly, know yourself, in which you should be happy as you are and secondly, always be happy, stay positive. Dr. Batra said that if you feel unhappy or defeated in your mind, then life will be like this and if you feel alive then life will be happy. If you make other people happy, you will also feel happy. Happiness always comes from your own actions and expectations. 
Prof. (Dr.) Gurinder Singh, Group Vice-Chancellor, Amity Universities said, according to research, about 78 percent of people deal with problems related to happiness like mental problems, etc., and 90 percent of people are not even aware of it. People are not able to control their anger, to be happy; first of all, you must know how to control your emotion or anger. Dr. Singh said that at present students are suffering from many types of problems and teachers should understand them and guide them properly. If teachers are not happy then it is not possible to build a happy society. We should be aware of the practice of motivating people to think positively including helping and pleasing them.
During the 5 days of FDP, various topics like Awareness about Self and Society; Transformation Power of Happiness; Transcendental Meditation: A Science of Eternal Bliss; Shifting workplace paradigms and happiness during pandemics; Life Balance Sheet; Gamification of Organizational Happiness; Crafting your Mind through Disciplined Body; Intellectual Property Rights: A Tool for Commercializing Researcher's Ultimate Happiness; Relationships and amongst others will be discussed.