Textile pioneer joins hands with district administration to propel covid vaccination drive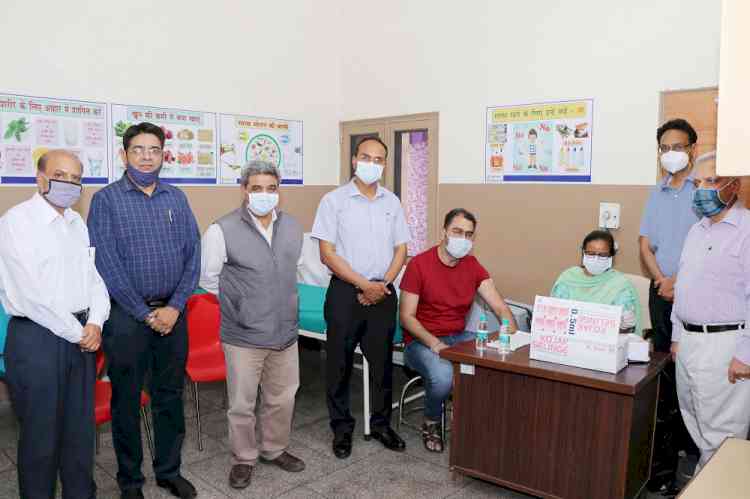 Ludhiana: On Sunday, a week-long door-step vaccination drive was initiated by Vardhman Group, which became the first industry in the city to start the vaccination of its employees and their families.  
The drive was inaugurated by Deputy Commissioner of Ludhiana - Shri Varinder Sharma (IAS) at Vardhman Spinning and General Mills (VSGM). Shri Varinder Sharma said that only through mass vaccination, the chain of coronavirus can be broken and people should come together to make this drive successful.  
Dr Sandeep Ahuja, Senior Medical Officer, Mother & Child Hospital, Vardhman also promoted the vaccination drive and addressed the concerns of people.  
Vardhman Group has been actively participating in controlling the spread of the virus by donating masks, providing financial support, setting up covid wards and testing kiosks in Punjab, Himachal Pradesh, Madhya Pradesh and Gujarat. The organization had also periodically carried out covid testing campaigns at its manufacturing units for its employees. Taking another step in the direction, Vardhman invited the district authorities to run a doorstep vaccination drive for its employees and their families. 
Starting from VSGM, the vaccination team moved to the garment unit VNGL and the steel plant VSSL in Ludhiana. Over 350 people took the jab on the very first day.   
Mr Neeraj Jain (JMD), Mr D K Sindwani (Director), Mr B B Peer (GMO-VSGM) and Mr K K Ohri (VP-Admin) from Vardhman remained present at the launch of the drive aimed at the welfare of the employees and their families. Addressing the employees, Mr Neeraj Jain said that "People should support the administration and come forward to fight out the COVID-19 pandemic instead of believing the rumours". "We need to work together to stop the spread" added Mr Sindwani.