Textile body HEWA lauds PM for back to back decisions to promote Indian Exports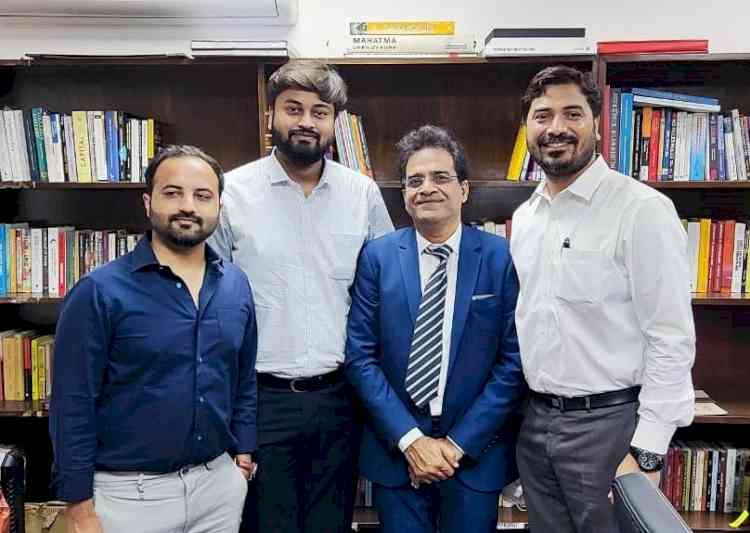 Vardhman Jain, Vikas Singh Chauhan, Alok Jain and Anant Srivastava.


New Delhi, September 15, 2021: The Home Textile Exporters' Welfare Association (HEWA) whole heartily thanked the Modi Government for giving patient hearing to various woes of Indian Textile exporters that were brought to the cognizance of various ministries and govt departments by HEWA.
The Union Minister for Textile & Commerce, Piyush Goel and Union Minister for Information & Broadcasting, Anurag Thakur declared during a press briefing recently that Government of India has approved disbursal of a hefty amount of Rs 56,000 crore arrear to the exporters under various schemes such as MEIS, RoSL, RoSCTL and RoDTEP.
The declaration is a very big relief for the entire Export Industry, which includes MEIS worth Rs 33,000 crore, RoSCTL and RoSL worth Rs 5,500 crore and few other schemes aggregating Rs 5,000 crore. An amount of Rs 12,500 crore for RoDTEP and Rs 7,000 crore for RoSCTL has been sanctioned this year, which is over and above that of Rs 56,000 crore. 
As liquidity will be made available to our exporters under various Govt Schemes, a transformation impact on exporters' cash flow will be visible in the days to come thereby making India a Global leader in textile sector by achieving the target of 100 Billion Dollar exports from present approx 30 Billion Dollar and hence move towards the cherished goal of Aatmanirbhar Bharat mission of Prime Minister, Narendra Modi.
The declaration of release of Rs 56,000 crore under various tax refund schemes is a result of Modi Government's continuous efforts and various measures to promote Indian Textile Exports by extending World Trade Organization (WTO) compliant RoSCTL scheme for three years, announcement of RoDTEP rates and also launch of PLI Scheme benefiting Man Made Fibre (MMF) and technical textiles.
Vikas Singh Chauhan, Director, HEWA, said, "We wish to thank the Indian Government under the able leadership of PM Narendra Modi, Union Minister for Finance Nirmala Sitaraman, Minister for Textile & Commerce Piyush Goyal and former Minister for Commerce Suresh P Prabhu and former Minister for Textile Smriti Zubin Irani."
All together among many positive decisions of Modi Government, the three decisions mentioned in para supra along with proposed Free Trade Agreement (FTA) in major international markets will give a giant leap in Investment, while the exporters will fetch new orders which in turn will generate more than 10 million new employment opportunities in Textile sector alone.
A positive characteristic of the Textile sector is that it comprises a maximum number of Small, Organized and Unorganized Units and MSMEs, which employ more than 45-50 million people, working on least investment and maximum employment model.
As the Textile sector is going to have a big chunk of benefits from all these fund release under various schemes the positive effect of this will be visible during forthcoming Christmas season as the Exporters will be in a capacity to work out whole heartedly in fulfilling their existing order and will also dare to fetch new orders from International Markets.
It was further stated that the HEWA office bearers are also thankful to former Minister for Commerce Suresh P Prabhu and former Minister for Textile Smriti Zubin Irani for sparing their precious time and having meetings with HEWA delegates and keenly listening to various issues raised before them.