Tewari lays foundation stone of roads of industrial area at Chanalon
Says, he is committed for fulfilling demands of people of his parliamentary constituency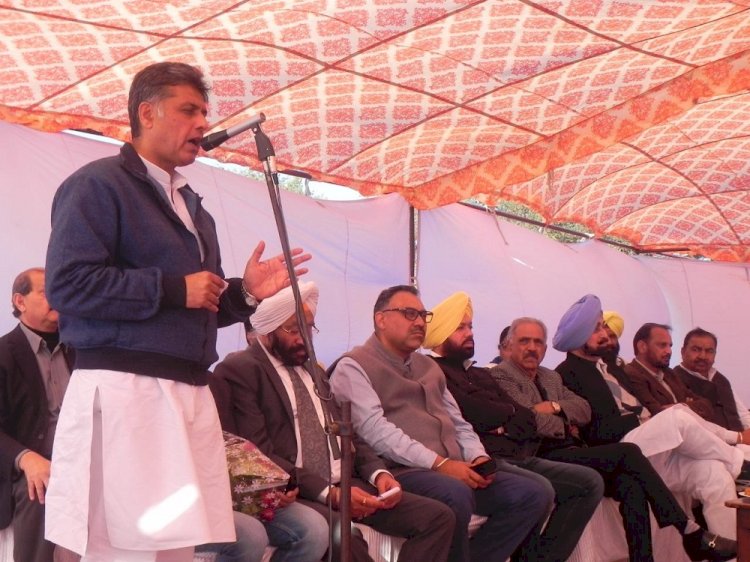 Mohali/Kurali: Congress Member Parliament from Sri Anandpur Sahib, Manish Tewari on Thursday said that he was committed for fulfilling demands of people of his parliamentary constituency. He was speaking after laying foundation stone of the roads of the industrial area at Chanalon, a nearby village. Sunder Sham Arora Industries and Trade Minister Punjab and former MLA Jagmohan Singh Kang were also present on the occasion.
Tewari said people of the area were facing problems due to pathetic condition of roads in the last about two decades. Now, the work of improving condition of the roads has begun in the area, resulting to which people would ultimately felt a sigh of relief from the routine problems occurring due to worse condition of the roads.
He announced that the roads of Chanalon Industrial Area are being constructed at a cost of Rs 10 crore. He assured that good quality of material is being used to re-constrict these roads so that people do not face the problem again. 
In his address, Sunder Sham Arora, Minister of Industry and Trade, Punjab, said that the predecessor governments failed to provide facilities for the industry, resulting to which all development works were lying standstill. Now, the work of development has been restarted by the present state government led by chief minister Capt Amarinder Singh. Lauding the leadership qualities of Tewari he said this leader believes in working at the ground-level and does not make unnecessary statements like other leaders. He added Tewari is a development-oriented leader and is known for his work.
Former MLA Jagmohan Singh Kang also addressed the gathering. Pawan Dewan, Chairman, Punjab Large Industry Development Board, Planning Board Chairman Vijay Kumar Tinku, Kamaljit Randhawa, Charanjit Singh Bhatti, Yogesh Saggar, President Mohali Industries Association, R S Bains Chief Engineer PSIEC and others were present.